American Flag Craft for Kids
Crafting is a great way for kids to get their creative juices flowing during the summer and are a fun alternative to playing video games or watching TV. While some crafts are easier for the parents than the kids, this July 4th Popsicle Stick Flag is fun for everyone!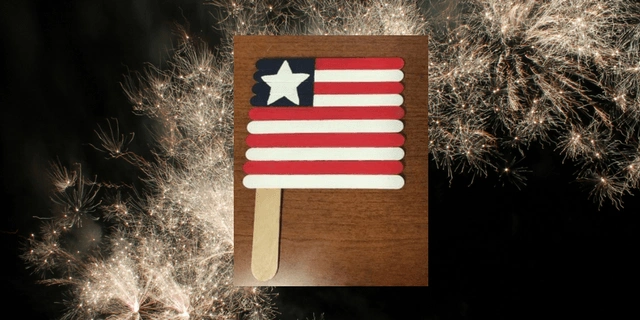 The finished product will look something like this, and it's a great decoration to any backyard this summer.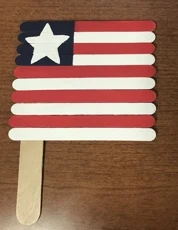 You will need:
Popsicle sticks: your local craft store should have plenty of options. You'll need about ten or twelve, depending on how big you want your flag to be.
Red, white and blue paint: washable kids' paint is great, but you need a lot of layers so we used acrylic paint for this craft.
Glue: washable school glue will work just fine.
Paintbrushes: don't worry about using higher-end brushes for this craft, any small paint brushes are great.
Glitter, stickers, etc. add more decorations to the flag
Step 1: Painting the Popsicle sticks
This first step is easily done if the kids are using craft paint and painting on a flat surface with newspaper or something underneath so they don't make a mess. Use regular paintbrushes and paint the popsicle sticks red and white (you will probably need a few coats so the color is rich).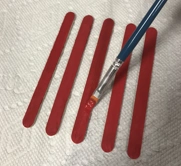 Step 2:
Gluing the sticks together
Once the paint is dry, turn the sticks over and glue another unpainted popsicle stick across the back (make sure they're laid out alternated red and white!). Since it's a kid's craft, using regular white glue will do the trick just fine. Wait a few minutes then turn the flag over again so the painted side is showing.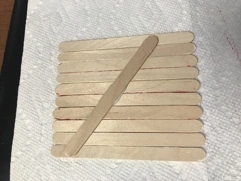 Step 3: Painting the blue corner.
Section out the top left corner of the flag to paint the blue part. Draw lines with a pencil and tape it off so you don't accidentally paint over the lines.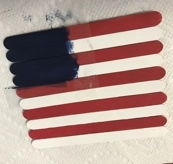 Step 4: Paint the star
Once the blue section is dry, it's time to do the star or stars. If you want to have multiple small starts, use a paint pen to draw and color them in. If you just want to have a bigger white star, grab your pencil and draw it in the center of the blue and fill it in with white paint.
This is also an ideal time to add whatever decorations you want. For example, glitter, sequins or anything else festive.
Step 5: Add the handle or string
Depending on how you want to use your flag, attach a larger popsicle stick to the left side and use it like a handle, or glue a piece of string or yarn on both sides of the back of the flag so your kids can hang up their masterpiece. You could even stick the popsicle stick down into the soil of a potted planter for a patriotic look on your porch.
Now, stare and admire! Since your flag is painted, decorated and ready for use, you can include it in your July 4th party or take it with you to watch fireworks and make amazing memories.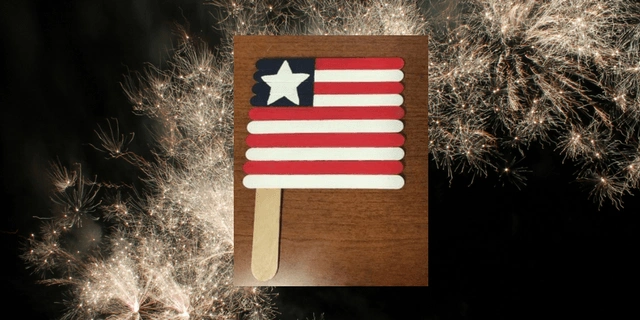 For more inspiration, check out this Neighborly blog to learn everything you need for your July 4th party!