How Much Does It Cost to Build a Sunroom?
Spending time outdoors is all fun and games until the elements arrive to interrupt the moment. Rain, extreme heat, and summertime bugs, for example, are inevitable and can make enjoying your backyard difficult.
With a sunroom, you can experience the beauty of the outside world from the comfort of your home, along with many more benefits. Check out these design options and related costs.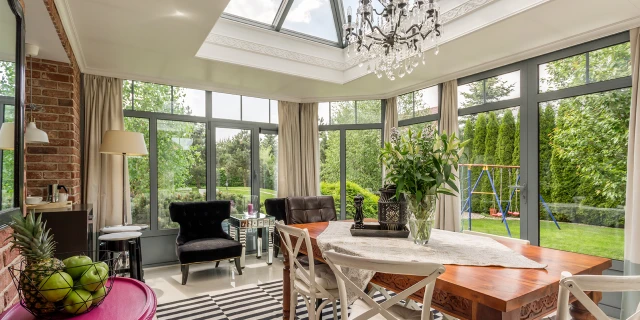 Sunroom Benefits
A sunroom is a unique extension of your home. It allows you the best of both worlds: to spend time outdoors without the little troubles that sometimes come with it. By adding a sunroom, you'll reap benefits like:
Beautiful visibility of your backyard and lots of natural light
The bridging of your outdoor and indoor living spaces
The capability for temperature management outdoors
An increase in the utility of your outdoor space during bad weather months
Additional space for relaxation and entertainment
An average 49% return on your investment
Speaking of your investment, a sunroom's price tag usually depends on your approach. When making your decision, consider factors like climate, your desired sunroom size and building materials, the design, and whether you'd like to do-it-yourself or hire a professional.
Sunroom Types
The cost of building a sunroom has a very wide range, which means you have several options for customizing your space and sticking to your budget.
Less expensive sunrooms are typically smaller, designed for specific seasons, and use more cost-effective materials. These types could be as much as $40,000.
Converting an existing patio or deck
Prefabricated kits
Atriums with roofs
More expensive designs are larger, built for year-round use, and use more costly materials, which would also bring greater energy savings over time. These could cost as much as $80,000.
Three-season room
Four-season room
Glass solarium
Additional Considerations
In addition to the sunroom cost itself, account for the following considerations as you build your budget:
Let the sunshine in! Adding a sunroom to your home is a great way to enjoy your backyard to the fullest.
Get Neighbourly and let a local Neighbourly home services company simplify your project. To schedule now, enter your zip code on this screen. Or, visit our homepage to learn more.
Financial information attributed to Home Advisor