hand touching wall switch
How to Spot and Repair Bad Wiring
If you recently moved or your home is aging, you may suspect that there are dangerous electrical issues. Look for these signs of bad wiring in your house.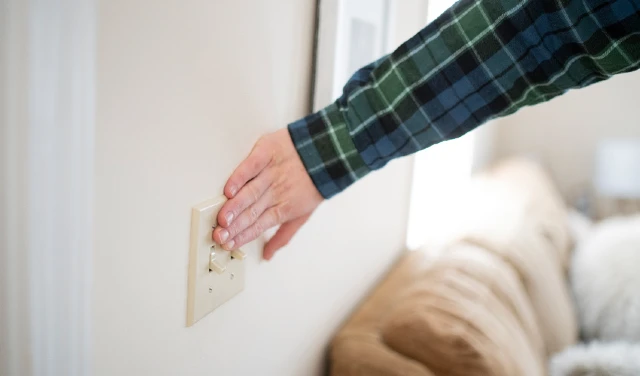 8 Signs of Bad Wiring
Frequently tripped circuit breakers. Especially if you have an older home, it's possible that your individual circuits are being overloaded with too many appliances and fixtures. Have a professional inspect the whole electrical system.
Flickering or dimming lights. There can be a lot of harmless reasons for flickering lights, such as a loose light bulb or an incompatible dimmer switch. Flickering and dimming can also mean bad wiring, like an overloaded circuit or a faulty electrical component.
Buzzing or crackling sounds. A lot of people can hear electricity, and it's not a problem. But if you hear significant buzzing or crackling, that's not normal! Consider an electrical safety test from Mr. Electric®, a trusted Neighbourly® brand.
Frayed wires. If a single area of your home seems to be having electrical problems, look at the wiring for switches, outlets, and anything with a plug. If any wires are frayed, they should be replaced – and you may want to look for other signs of a rodent problem, including in your air ducts.
Aluminum or knob-and-tube wiring. These types of wiring are outdated and could be dangerous due to sheer age and inferior design. Better to upgrade than to be sorry later.
Warm or vibrating spots on outlets or walls. If there are hot spots anywhere, something is wrong, and you should hire an electrician. Get more tips from Rainbow International® for preventing electrical fires.
Smoke coming from outlets or appliances. Now it's getting serious! While you could test the electrical components of your appliances to troubleshoot further, it's safest to get professional appliance repair and electrical services immediately.
Burning smells or scorch marks on electrical fixtures. Like the previous sign of bad wiring in a house, this one indicates an urgent problem that should be evaluated by an experienced electrician.
Act Fast When You See the Signs of Bad Wiring
If you've seen the above warning signs of bad wiring, rely on the Neighbourly family of home service professionals to keep your home protected and up to date. Our trained, experienced pros can help with your electrical system and any other aging parts of your house:
Need any other home services? Search for more Neighbourly services right here! Our professionals are ready to lend a hand to repair and improve your home.