Outdoor Party Ideas: Prep & Entertain on Any Budget
The sweet, summer months are meant for long, warm nights that never seem to end. When the sun starts to creep its way down, the backyard barbecue can really begin!
Want to throw the perfect outdoor party this summer? Doing so doesn't have to break the bank! Round up your neighbours, family, and friends and entertain on any budget with these Neighbourly tips.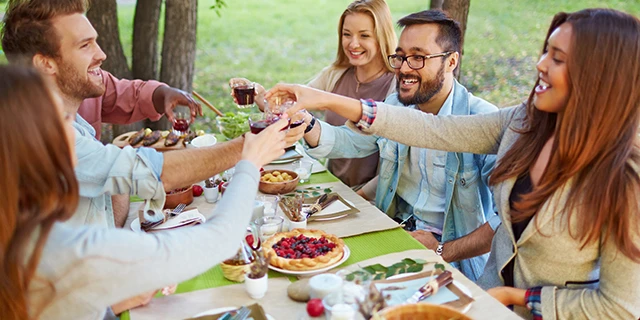 Prep Your Party-Perfect Backyard
Take a look at your backyard and ask yourself, "Would I invite friends and family to step outside at this very moment?" Put yourself at ease by treating this space to some TLC before the backyard bash.
Make the space more open and comfortable by trimming back overgrown grass, trees, and shrubs. Plant some flowers to add a touch of colour and natural décor to the space. If you're feeling overwhelmed, the pros at The Grounds Guys can help!
The summer heat is only fun for so long. Use an outdoor fan for breeze-less days. Engulf your guests with cool air-conditioning when they step inside for a break with the help of the experts at Aire Serv!
Decorations
When in doubt, light it up! Consider using paper lanterns, string lights or tea lights placed in mason jars to enhance the beauty of your yard. Mr. Electric can assist with your outdoor lighting needs!
Create unique and inexpensive table runners using a few colourful bandanas from your local craft store. Layer them across your table for a fun and "oh-so-summery" look.
Up, up and away! Don't underestimate the simplicity and beauty of balloons. Choose no more than three colours that correspond with the theme of your backyard bash. Incorporate these colours into other elements, such as paper plates, napkins, or party favors. Check out these tips from our friends at Five Star Painting for some tips on picking your color scheme!
Food
The fact that your party is outdoors prompted casual eats. Don't fix what's not broken! A classic menu featuring hot dogs and burgers on the grill is sure to please a wide variety of guests.
Looking to feature an assortment of dishes on a budget? Ensure there's something for everyone by inviting guests to bring a dish. You provide the meats, they provide the sides – let's dig in! Or think of fun, ethnic food themes to inspire your guests' creativity.
A well-maintained grill is a happy grill! Ensure yours is in good working order for the cookout with these grill cleaning and maintenance tips from Mr. Appliance.
Activities
Nothing beats classic games like ladder golf, bocce ball, or badminton in the backyard at a summer party. Dust off your old sets and get the whole family up and moving! Create a tournament for some healthy competition.
If you have a swimming pool, make the most of it! Kids can swim their hearts out and parents can relax poolside on a float with an ice-cold beverage! This activity provides hours of fun, so make it the focal point of your backyard bash.
Bust out the piñata! Find a low-hanging tree limb and add a pop of colour to your summer fiesta. For bonus points, fill your piñata with favors that coordinate with your party colours!
Seating/Surfaces
Don't Forget the Music!
Every great party has great music. When in doubt, stick to the classics – tunes that everyone knows and can sing along to! Or, even better, encourage musically-inclined friends to bring their guitar and have a jam session by the campfire!
Summer has arrived! Celebrate the season with a fun outdoor party with the people that matter most. At Neighbourly, we want you to feel proud of the home you own. We're a family of local service professionals serving your community. Our technicians can help you with virtually any home maintenance need!
Explore our brands and services at Neighborly.com/ca, and sign up for your free account to search for a local pro, get advice, and schedule task reminders.