What Is Glamping? Get Great Glamping Ideas
Love the thought of camping in the great outdoors, minus the whole "roughing it" thing?
Thankfully, there's a modern-day solution: glamping! Discover the possibilities and how to prepare before you leave home.
Glamping defined
What is glamping, anyway? (Yes, it's a real word!)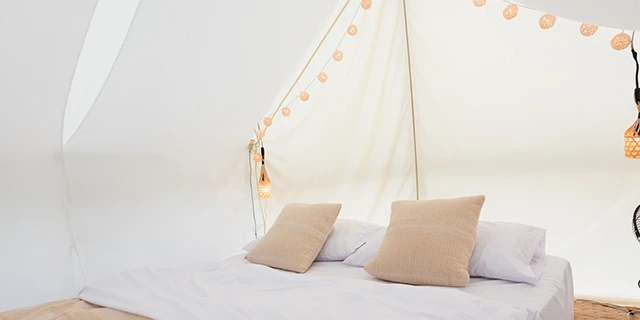 Merriam Webster added the term to their dictionary in 2018. Glamping, a combination of "glamour" or "glamourous" and "camping," is defined as:
Outdoor camping with amenities and comforts (such as beds, electricity, and access to indoor plumbing) not usually used when camping.
Sounds great, right? Going glamping means having the comfort of home while still enjoying the beauty of nature. Check out how to make these five key camping components more glamourous.
Key components
Shelter – No more rickety tents for you! When it comes to glamping, shelter options are endless. Try staying in a yurt, a treehouse, an eco-lodge, an airstream, a barn, a cabin, a tipi, a dome or a hut.
Amenities – Think of your worst-case-camping scenario and remove the discomfort from it. Your solution likely looks like running water, electricity, air conditioning, a comfortable mattress and, of course, indoor plumbing. Combine any of these or have them all!
Food – No need to fire up the campfire or break open a vacuum-sealed packet. Glamping food looks a lot like your day-to-day menu. Find a restaurant nearby or, depending on your shelter, cook a meal in your kitchen!
Sleep – The idea is to come home well-rested, not with a knot in your back! That might mean a blow-up mattress in your tipi, or a memory foam mattress in your lodge. Whatever you choose, get a good night's rest!
Fun – Reading a good book or playing charades by the campfire are fond camping pastimes and should extend to glamping. However, take it up a notch by leaving the "glampsite" and doing something the whole family would enjoy!
Before you go
Deep clean your house before heading out. You'll be much happier returning to a clean home than a messy one!
Purge your refrigerator, run/empty your dishwasher, and finish the laundry. You'll likely have more than enough food, dishes, and laundry to bring inside when you get back!
Want help with any of the home maintenance needs above? Neighborly is here to do just that. Our family of home services brands maintain, repair, and enhance your home or business. Visit our home page to explore our trusted professionals and schedule your next home project.