Tips for a Successful Yard Sale
Regular guests to the Neighborly blog know there's power in "cleaning up and clearing out" unnecessary clutter in your home. An effective way to do this is to have a yard sale!
If you're unsure where to start, these tips will help you have a super successful yard sale!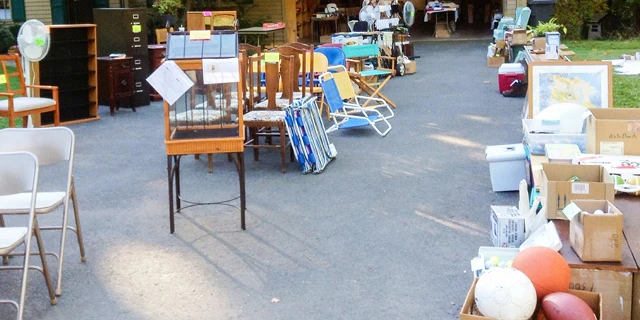 Choosing Items
Clearing out clutter is an important part of maintaining a home – we can help you choose what to ditch.
You probably know you have too much stuff, but do you know what's what? Begin your venture by creating these five piles: "Keep," "Toss," "Donate," "Store" and "Sell." Learn more about organizing with piles and keeping a generally tidy home!
Spend time in each room of your home and consider: 1) Have I used this item recently? 2) Would I buy this right now if I were standing in the aisle? If the answer is "no" to either question, consider adding the item to your yard sale. Learn more about clutter psychology!
As you place items in your "sell" pile, slap on a price tag. You can use masking tape or colored stickers and a permanent marker to add prices quickly. This will save you time in the long run and ensure you don't miss an item.
You've heard the saying, "One man's trash is another man's treasure." Ensure you're only offering "treasures" by choosing items that are in good condition and functional. Throw away or donate items that aren't.
Preparation
Laying the proper groundwork is arguably the most crucial component for a successful yard sale.
Choose your date (Thursday, Friday or Saturday is common), location, and time well in advance. Shift your date if you anticipate bad weather and beat the heat by starting early in the morning.
Do some research to ensure you're in compliance with local regulations. In many cases, you need a permit to have a yard sale – a city clerk can confirm this for you.
Gather plenty of small bills (for change), price stickers, and tables for breakable items.
Collect makeshift tables (crates and boards, for example) or containers to display non-breakables.
Assemble your crew – yard sales are more fun (and more efficient) with friends and helpers!
Consider sprucing up your "storefront" for the big sale by beautifying your front yard or cleaning out your garage!
Advertising
Your sale can only be successful if people know about it!
Create several easy-to-read signs with clear messaging to place at nearby intersections. The simpler, the better! Then, pretend you're a potential shopper and try to navigate to your sale location based on your signage alone.
Team up with multiple families when possible. This will create a "one-stop shop" for yard sale shoppers that will certainly pay off for all families involved. It's a "win-win!"
Advertise your sale online, particularly on social media. If your neighborhood has a community Facebook page, be sure to list your sale there too!
Day of the Sale
Today's the day! Are you ready?
Be ready an hour earlier than you plan to start. When your items are out, passers-by will stop! Pump up your crew with donuts and coffee to start your action-packed day.
Greet shoppers when they arrive, but don't hover. Instead, let them come to you.
Label your categories clearly. If you have lots of clothes, for example, organized by women's, men's, children's, etc. Typically, shoppers have specific items they're hunting for – make it easy!
As the day dwindles, you may decide to reorganize items and price "in bulk." For example, if you're just trying to "clear out" at the end of the sale, you could group small items together on an "All items for a dollar" table.
We hope these tips equip you and empower you to have your best yard sale yet!
Our trusted home service experts are here to help with all your home maintenance needs this fall. Explore our Neighborly family of pros and sign up for seasonal task reminders today!