How Much Does a Sunroom Cost?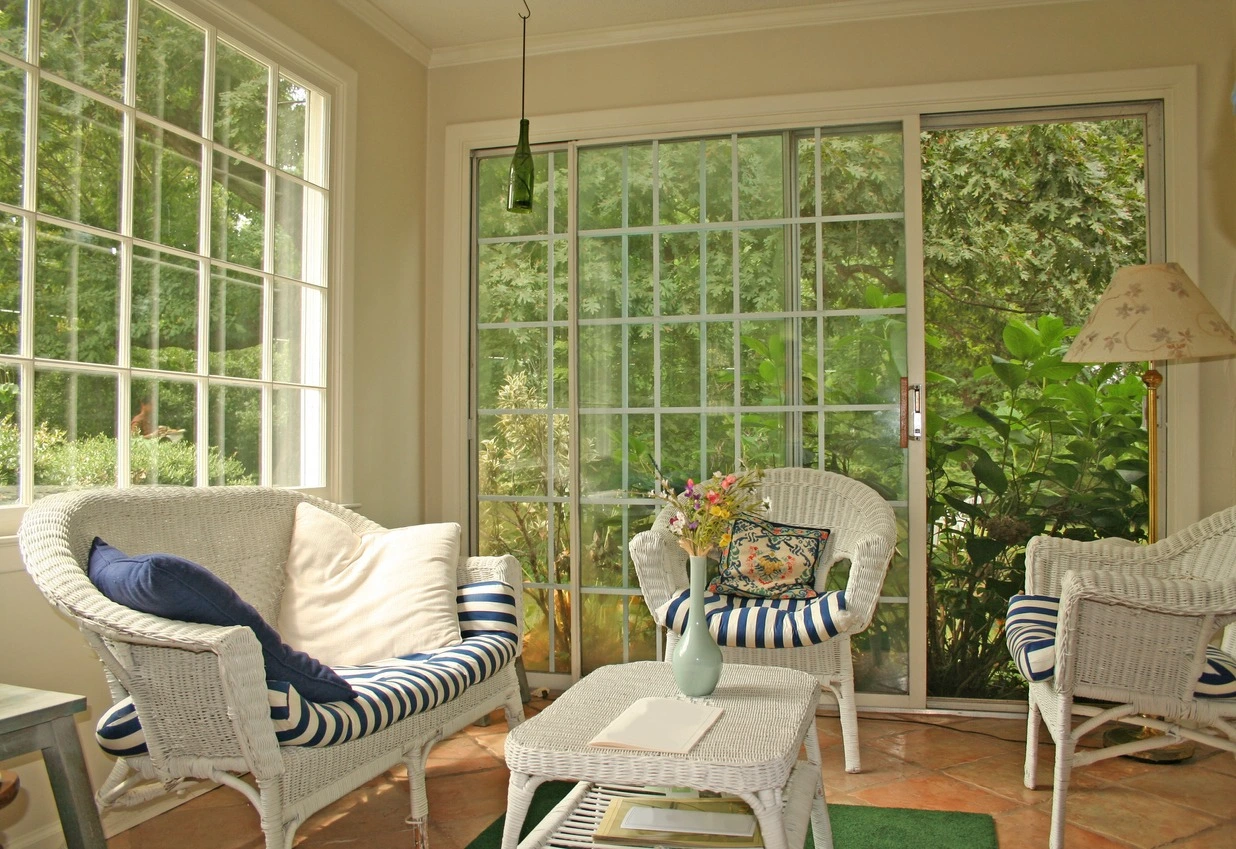 Spending time outdoors is all fun and games until the elements arrive to interrupt the moment. Rain, extreme heat, and summertime bugs, for example, are inevitable and can make enjoying your backyard difficult.
With a sunroom, you can experience the beauty of the outside world from the comfort of your home, along with many more benefits. But how much does a sunroom cost? In this short guide, we'll tell you about the advantages of building a sunroom, factors that affect how much it costs, and options for style and design.
Sunroom Benefits
A sunroom is a unique extension of your home. It provides a unique ability to spend time outdoors without the little troubles that sometimes come with it. By adding a sunroom, you'll reap benefits like:
Beautiful visibility of your backyard and lots of natural light.
The bridging of your outdoor and indoor living spaces.
The capability for temperature management outdoors.
The ability to sit "outdoors" no matter the weather.
Additional space for relaxation and entertainment.
An average 50% return on your investment – Adding a sunroom increases the square footage of your home and adds greater functionality, increasing its resale value.
Speaking of your investment, a sunroom's price tag usually depends on your approach. When making your decision, consider factors like climate, your desired sunroom size and building materials, the design, and whether you'd like to do-it-yourself or hire a professional.
Sunroom Types
There are a wide variety of sunroom types. Each type has different factors that affect cost and construction time.
Less expensive sunrooms are typically smaller, designed for specific seasons, and use more cost-effective materials. Some of the more affordable approaches to building a sunroom include:
Converting an existing patio or deck
Prefabricated kits
An atrium with a roof
More expensive designs are larger, built for year-round use, and use more costly materials, which bring greater energy savings over time.
Three-season room – These rooms have large floor-to-ceiling windows, can be used most of the year, and have some electrical features such as fans. However, they are not climate-controlled, which can limit their use during extreme temperatures.
Four-season room – Four-season sunrooms are enclosed in glass and have climate-control elements that allow them to be used throughout the year.
Glass solarium – These sunrooms are entirely made of glass and framing material and do not have any climate-control or electrical elements.
Factors That Impact Sunroom Construction Costs
The cost of building a sunroom has a wide range, which means you have several options for customizing your space and sticking to your budget.
Generally, a sunroom is an expensive addition to your home. However, the price tag depends on your preferences. Some factors to consider when building a sunroom include:
Size
Electrical elements
Windows
Building materials
Décor
Furnishings
Insulation
Roofing
FAQs About Building a Sunroom
Do sunrooms add value to a home?
Yes, sunrooms do add value to a home. They can add value through their appearance, functionality, and additional square footage. The amount of return on investment varies depending on the type of sunroom you install. In hot and temperate climates, sunrooms add more value because they can be used more frequently.
Is it cheaper to build a sunroom or an addition?
Sunrooms are generally much cheaper than a full addition. This is because sunrooms don't have to meet all the same requirements as an addition. An addition is a whole new room, while a sunroom is like an enclosed patio. For example, a sunroom rarely requires the same level of framing and wall construction and almost never has the same electrical needs as an addition. They are also quicker to build, though they have somewhat more limited functionality compared to a full addition.
Does a sunroom need a foundation?
With very few exceptions, a sunroom needs a foundation. Like any room in a home, it needs to be fit for human occupancy, and without a foundation, the structural integrity of a sunroom will be questionable. The most notable exception to this rule is if you plan to build a sunroom on a raised deck by enclosing the existing deck, which will serve as the foundation.
Call Neighborly for Help Building Your Sunroom
Let the sunshine in! Adding a sunroom to your home is a great way to enjoy your backyard and the outdoors to the fullest.
The Neighborly® family of trusted home service brands will help simplify all of your home projects. From plumbing and electric to HVAC, painting, and everything in between, we make getting things done at home easier. To schedule an appointment, enter your ZIP code in the text field below and click the Find Local Help button.