Simple Ways to Increase Your Home's Curb Appeal
Increased curb appeal is the goal of many home improvement shows, but for many viewers, the techniques are too impractical to try at home. Fortunately, you don't need a vault of money to make your front yard look bright and attractive. Here are a few simple tips to help you make your home the nicest on the block.
One of the best ways to enhance your curb appeal is to add a few striking accents. Brightly painted shutters or doors can be a great way to add permanent color to the front of your home. Colorful flowers are also a good choice, but be careful not to incorporate too many colors as it can become overwhelming.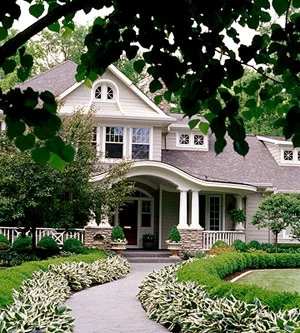 Try adding a statement piece like a fountain or trellis. Unique ornaments like these can increase the appeal of your home and make it stand out among others on the street.
Remember that path to your front door should be immediately visible from the street. This will draw guest's eyes towards your home and give it an inviting feel. If you want to line the sidewalk, use small flowers or plants, rather than large bushes or trees that could make visitors feel enclosed. You can liven up your sidewalk by replacing the concrete with stepping stones or laying a brick border.
Don't forget that regular maintenance is the first step in increasing your home's curb appeal. An overgrown lawn or untidy shrubs can make any house look unattractive.
Photo courtesy of www.beautifullandscapingideas.net