Learn How to Winterize a Screened-in Porch
When you winterize your screened porch by covering the screens and performing other weatherproofing, not only do you protect your home from damage; you also protect your wallet from high energy bills! Follow our simple steps to get it done efficiently.
Step 1: Pick Your Preferred Porch Winterizing Method
There are three common materials used to winterize a screened porch: vinyl curtains, plastic window insulation sheets, and vinyl panels.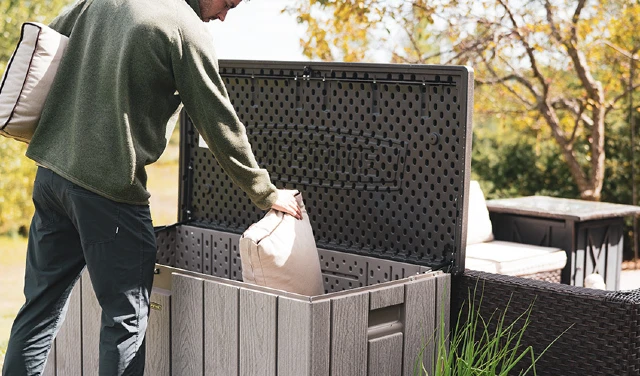 The material you ultimately select will depend on your budget, taste, and skill level. Let's take an in-depth look at each.
Clear vinyl curtains are durable, affordable, and easy to hang to cover your porch's screens. The easiest way to install vinyl curtains is with tension rods near the ceiling and floor. Measure the length from wall to wall to figure out what sizes of rods you need, then purchase from any hardware store or online. Connect the vinyl curtains to the upper and lower rods using the integrated sleeves or grommets. Once in place, you'll be able to open and close the curtains whenever you desire.
While vinyl curtains are great for heat retention, they are not the most attractive solution for winterizing a porch because they show wrinkles. If you prioritize a clean home aesthetic, skip to the information below about vinyl panels.
Plastic Window Insulation Sheets
Plastic window insulation sheets are another affordable winterizing solution for your screened porch. They create a better seal than curtains do, and you can purchase installation kits at a local hardware store or online.
Velcro or tape is included in most store-bought kits, but some insulation sheets are compatible with staples, which are stronger. Check your kit to be sure you have all the tools you need. Cut the plastic to fit each screened section. Then, attach the sheets to the frame by following the manufacturer's instructions.
The installation process is straightforward but can be time-consuming. Even though plastic sheets will help keep your screened porch protected, they can be quite noisy on a windy day. Additionally, their shiny surface may not be very attractive.
Vinyl panels are the most attractive and insulating option for winterizing a porch. They do cost more than other solutions and require you to build storm windows to house the panels. If you can handle the up-front cost and effort, we recommend this option the most, as you can reuse the panels for many years. If you are not a do-it-yourselfer, check to see if you have a Glass Doctor® nearby to become your go-to team for annually installing the storm windows.
Keep in mind, the cost to build a sunroom may not be much more than adding vinyl panels, depending on design and HVAC choices. To help you decide, we put together a guide to converting your existing porch to a sunroom.
Step 2: Weatherproof the Rest of Your Porch
Now that you know how to winterize a screened-in porch with window coverings, you should look at the doorways and walls. Any gaps or cracks will allow heat to escape.
Even a high-quality door requires periodic weatherproofing, as seals wear down over time and wood expands. You can fill any obvious gaps with caulk and replace the weatherstripping to create a tighter fit. You may need a backer rod o repair larger gaps. Then, fill any cracks in the walls. Finish with a coat of waterproof sealant to help reduce humidity.
Finally, examine your electrical outlets on the porch. Check out Mr. Electric's tips to ensure the outlets are outdoor-rated and safe. Regardless of the outlet type, it's a good idea to install outlet covers for additional water and ice protection.
Step 3: Remove Warm-Weather Décor
Even after you've winterized the porch, there may be some frigid or humid days. Protect your belongings from winter damage by moving the following items inside:
Glass and ceramic décor
Cushions and rugs
Wooden furniture
If you're looking for furniture that can safely remain on your porch all year, consider cast iron, which is durable and rust-resistant.
Step 4: Clean Your Porch
Dirt and mold are prevalent on most screened porches. After taking the time to winterize your porch, give it a thorough cleaning so it looks and smells fresh.
At least once a year – in late fall or early spring – plan to clean your screens using these tips from Window Genie®. If there's a Molly Maid® nearby, ask them to clean your entire house, screened porch and all. If you opt for their recurring services (which we highly recommend), be sure to request they include the screened porch as part of their service package at least once every season.
Step 5: Enjoy Your Winterized Porch
Now that your porch is winterized and looking its best, it's time to sit back and relax. If a long to-do list is making relaxation difficult, why not hire reliable home service pros to lighten the load? Neighborly® brands are here to help you. Just search for the services you need, and we'll take care of the rest.