If You Don't Have a Nest, Go Buy One Now
With technology rapidly advancing before our eyes, we're living our smartest lives. We have "smart" phones that connect us not only to our friends and family but also to the world around us. When we arrive home, "smart" TVs allow us to watch virtually anything, anytime, and "smart" security systems keep us safe and protect our families. What if you had another piece of "smart" technology that worked to keep your home cool and comfortable?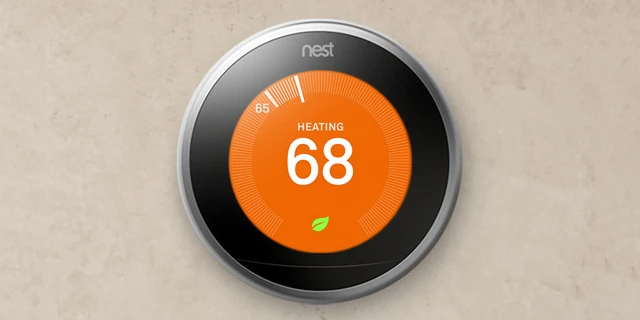 Cue the Nest Learning Thermostat. Nest thermostats, as well as other smart, programmable thermostats on the market, not only make home temperature control incredibly convenient, but they save you money on your energy bills! Neighborly has compiled some of the most impressive smart thermostat features to prove why a Nest should top your wish list.
Remote/voice control – Like smart home security systems, smart thermostats connect to Wi-Fi and can be controlled from your tablet, smartphone or laptop computer. Have your air turned up high but know the kids are on their way home? Turn it down at work so your home is cool and comfortable when they arrive! Not interested in firing up an app while you're at home? Newer models will recognize your voice and adjust the temperature accordingly. Ask and you shall receive!
Hub compatibility – Do you already own a smart home "hub" like Apple HomeKit or Amazon Echo? Many smart thermostats are compatible with these hubs and will integrate their services with your existing smart technology. The third generation of Nest thermostats have Amazon Alexa integration, so when you call her name, she'll be able to turn down the air, too! This "Works with Nest" compatibility makes your home even smarter.
Auto scheduling – Arguably the most important smart thermostat feature is auto scheduling. Nest boasts that if you give it just one week, it will learn your "temperature tendencies" and will automatically know when to turn your thermostat up or down. Ready for bed? Nest will know to drop the temperature a few degrees!
Home/Away assist – Smart thermostats automatically turn themselves down when nobody's home, which they determine based on sensors and your phone's location. Nest will shift into something called "Eco Temperature" so aren't using extra energy while you're away.
Nest leaf – Speaking of saving money, the Nest leaf lets you know when you're doing well. When you see the little leaf on screen, it means you're set at a temperature optimal for saving energy (and money!). Because Nest customizes itself to your habits and tendencies, the leaf symbol will appear at different temperatures for different families.
Take note – Nest has competition! While all smart thermostats are similar, they vary slightly in price and features. For example, Ecobee is great for larger homes, as they incorporate room sensors to manage those pesky cold and warm spots. In addition, these sensors know the difference between you and your pet, so your furry friend won't trigger a sensor on accident. Check out these brand websites to determine provider is best for your home.
When it comes to controlling your home's temperature and keeping your energy bills low, it's time to get smart! Consider upgrading to a smart thermostat like Nest to save money and live more comfortably. Ready for more tips and tricks for the home? Check out more helpful Neighborly blogs!