How to Sanitize Your House Effectively
The world is becoming increasingly concerned about protecting its families from viruses and other pathogens. If you thought you knew how to sanitize your house before, now you may be doubting your techniques. In our effort to bring comfort, Neighborly® is sharing how to sanitize your house effectively.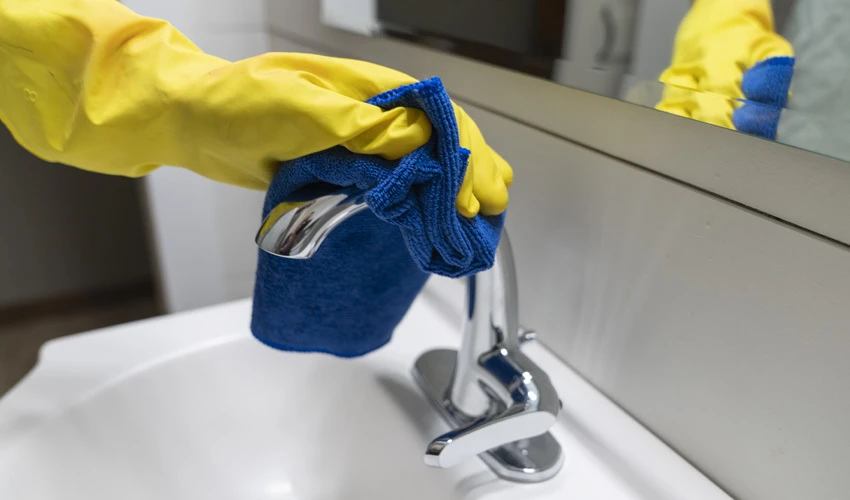 Killing Germs in the House: Clean and Disinfect
It's well known that a big part of preventing illness is keeping surfaces, including your own hands and face, clean. When there's an imminent threat of a super-spreader virus, it's also recommended that you stay home as much as possible and focus on killing germs in the house.
How do you sanitize your house properly? It really boils down to two steps:
Clean surfaces first with soap and water.
Disinfect the same surfaces with an effective product.
The Centers for Disease Control (CDC) has more information about the best cleaning methods and shares a list of reliable disinfectants PDF (1080kb). Pay close attention to sanitizing surfaces that are touched frequently: the bathroom counter, sinks, door handles, appliance knobs, light switches, the TV remote, your keys, and so on.
What Temperature of Water Kills Germs in the House?
The World Health Organization PDF (757kb) (WHO) states that water temperatures of 140°F to 150°F are enough to destroy many viruses, and boiling temperature (212°F) is even better. If you follow the CDC's instructions for sanitizing surfaces using suitable disinfectant products, it's okay to use hot or cold water.
However, while doing dishes and laundry, the water temperature does make a difference. This is because you can't use intense disinfectant products for these tasks, as they would irritate skin. If you're concerned about contaminants, use the hottest setting on your dishwasher and washing machine, and be sure to dry clothing on hot for 45 minutes.
You're Doing Great, Really
Now that you know best practices as to how to sanitize your house properly, try not to obsess about whether you're doing a good job. Just focus on keeping your home's environment as safe as you can with the resources and time you have. That much is in your control!