How Often to Do Home Maintenance Tasks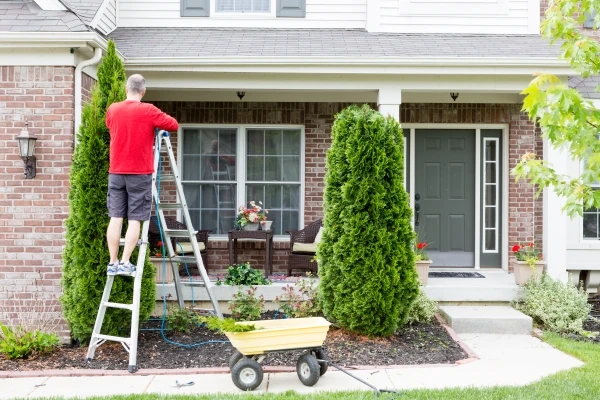 Homeownership can be fun and exciting, especially when you begin to shape your space to fit your specific needs. But with everyday cleaning, maintaining appliances, electrical systems, and more, it seems like there's always a job waiting to be done—or, more realistically, a dozen jobs!
Learning how frequently each major maintenance task should happen can give you more time to tackle some of your more ambitious renovation ideas you have for your home. You'll also be able to reduce surprises and build a schedule that keeps you organized and sane throughout the year. Check out these answers to the most frequently asked "how often" maintenance questions. And remember: You don't always have to do it alone.
HVAC and Appliance Care
How Often Should You Clean Air Ducts?
What's lurking in your air ducts? Dust? Pests? Maybe both. You should have your home air ducts cleaned professionally every two to five years. If a member of your household has allergies or respiratory health problems, then clean air ducts every two years to keep airborne irritants controlled. Here is some useful information to help you determine the best air duct cleaning frequency.
How Often Should Your Change the Air Filter at Home?
If your HVAC system has a disposable air filter, you should inspect the filter monthly and change it every three months. If the filter looks completely clogged with debris, you may need to replace it early. What happens if you forget to swap out the filter? Find out the answer, plus a lot of other maintenance tips, in this HVAC air filter guide.
How Often Should You Change Refrigerator Filters?
Depending on the model of fridge you have, your appliance might have both a water filter and an air filter. Both filters should be changed every six months, but so many homeowners don't even realize they exist! Mr. Appliance has a guide to refrigerator filters with every detail you need.
Cleaning Tasks
How Often Should You Clean Your House?
This one is tough to answer, as it depends on how active and messy your family is. However, it's best to try to do the basics—mopping, sweeping, vacuuming, dusting, and bathroom cleaning—once a week. Additionally, be sure to clean kitchen and bathroom countertops and sinks every day. The best deep-cleaning frequency varies by family, but conquering one deep clean every six months is a good goal.
Need an extra hand to keep your house clean? Check out these cleaning services options.
How Often Should You Vacuum Your House?
Vacuuming is one of those chores that you either love or hate. It's meditative or soul-sucking, but either way, it needs to be done. If you don't have pets, vacuuming your house once or twice a week will keep it fairly clean. If you have pets, try to make daily vacuuming a habit if you can.
How Often Should You Power Wash Your House?
Most homeowners keep their homes clean by power washing the exterior once every year or two. The ideal frequency of power washing is influenced by your climate, landscaping, lifestyle, and more. If you haven't prioritized power washing in the past, you're missing out on some serious benefits.
Related Topic: How Often Should Gutters Be Cleaned?
Fire Safety Must-Dos
How Often Should Electrical Outlets Be Inspected?
Your electrical outlets need both DIY tests and professional inspections. Test GFCI outlets yourself every 6 months by pressing the Test/Reset button on the outlet cover. Every three to five years, hire an experienced electrician to perform an electrical safety inspection. Between inspections, if you notice any signs of bad wiring like burn marks near outlets, call a professional right away.
How Often Should Dryer Vents Be Cleaned?
Nobody wants a house fire, but dryer vents tend to create the ideal conditions for one: intense heat and lint buildup. Because of that risk, dryer vents should be professionally cleaned and inspected once or twice a year. If you do laundry every day, twice a year is recommended.
Related Topic: How to Find a Trustworthy Plumber
Help from Neighborly Is Always on Time
All these home maintenance tasks add up to a constant to-do list—as if you didn't already have enough on your plate, right? How can you get it all done and still have time for yourself? You can trust the Neighborly home service experts to take care of all your home maintenance tasks. This means less time fixing and repairing, and more time doing the things you enjoy. Visit us online to get started.