Hidden Room Ideas for Secret Rec or Relaxation
While there's no place like home, it can be nice to have a hidden hangout where you can find a quiet moment without leaving the house. If you have the extra space, why not build that hangout?
Let's take a look at some inspired hidden room ideas for recreation or relaxation, along with a few secret room entrance ideas that lend a magical ambiance. Plus, we'll point you to the Neighborly® home service experts that can offer friendly advice or professional services to make your project a success.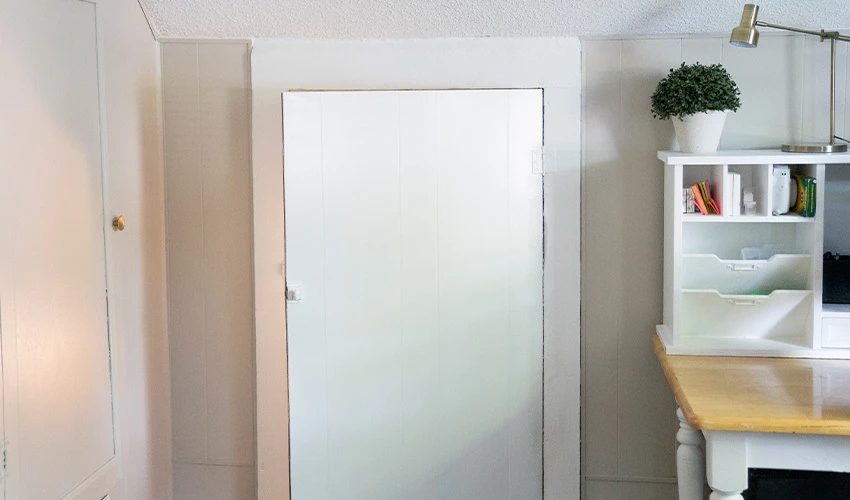 Secret Room Ideas for Any Space
What's the best purpose for a hidden room? It really comes down to what interests you and brings you the most joy. Some favorite secret room ideas include:
Playroom
Guest room
Secure storage
Electronics-free reading and game room
Yoga, exercise and meditation room
Wine-tasting room
Whether you plan to share the room with a select few people or keep it to yourself, your secret is safe with us!
Unique Secret Room Entrance Ideas
The secret room entrance will fully hide it and add an element of mystique. As you consider different secret room entrance ideas, let your creative mind take over. How hidden should the room entrance be? With the following ideas, the only person who will have to know the entrance exists is the person who puts it there.
Sliding or Hinged Bookcases
Take a page from your favorite childhood mystery book, and conceal the room with sliding or hinged bookcases. In addition to creating the perfect cover for your secret entrance, you will also be creating more storage for your book collection. Incorporate one of these solutions for easy opening:
Put a single bookcase on a hidden barn-door track.
Use a single bookcase that opens inward, with hinges that are hidden inside the secret room.
Install a double bookcase like a bifold door, with a hinge running up the middle.
False-Backed Wardrobes
This is a classic secret room entrance idea that turns a wardrobe or closet back into a mystical passageway. It's simpler than a bookcase entrance because the doors of the wardrobe or closet hide the seams of the secret door. Even if you don't have space for a full secret room, you can use this type of entrance for securely storing valuables like cash, jewelry and other prized possessions.
Hinged Wall Panels Hidden with Wainscoting
Disguise the door to your secret room as a wall panel with wainscoting around it. The main challenge is repeating the wainscoting pattern around the whole room, but the final result will look sophisticated. No one will suspect that one of the panels is a door with hinges on the back!
Any easier way: Hide a regular door behind a large piece of art, and put an antique-inspired lock on it. You get extra points for mysteriousness if you use a tapestry or other textile.
Under the Stairs
It doesn't get much more whimsical than a hidden doorway under a staircase. If you are planning a "secret" room for the kids, make a small, crawl-through door disguised as a bookshelf or hidden with trim details. Not only will the kids be delighted, but a hidden room under the stairs is a great way to maximize every inch of space in your home – and keep some toys out of sight!
How to Build the Secret Room Entrance
Do you love the idea of the perfect hidden doorway but lack the time or patience to build it? Save hassle by letting reliable pros do the work for you. Check if there's a Mr. Handyman® near you, as they specialize in door services. Their experts can capture your vision and use their exceptional skills to create a hidden entrance that exceeds your expectations.
More Secret Room Ideas: Finishing Touches
When it comes to the design details in your hidden room, you have the freedom to venture as outside-the-box as you'd like. No need to worry about the style clashing with the rest of your home. Now is your chance to let go of color schemes and style guidelines and create a space that speaks to your inner artistic spirit.
Use these secret room ideas to take it to the next level:
Start Creating Your Hidden Room Today
You deserve a fun, comfortable space where you can enjoy a peaceful moment. Wondering how to get started on your favorite hidden room ideas? Don't forget the Neighborly home service professionals are ready and willing to help.
We've already mentioned some of the reliable Neighborly brands that can make your project a success in less time than you'd expect. Good news: There are even more experts in our family! Search for any home service you need here.