Gifts for Neighbors They'll Actually Love
If you're not friends with your neighbors, we have good news: It's never too late to change that!
Maybe they've just moved in and you want to extend a warm welcome. Or, perhaps you've been neighbors for years, but no real connection has been made. (Yet!) A thoughtful gift is a great way to start the conversation.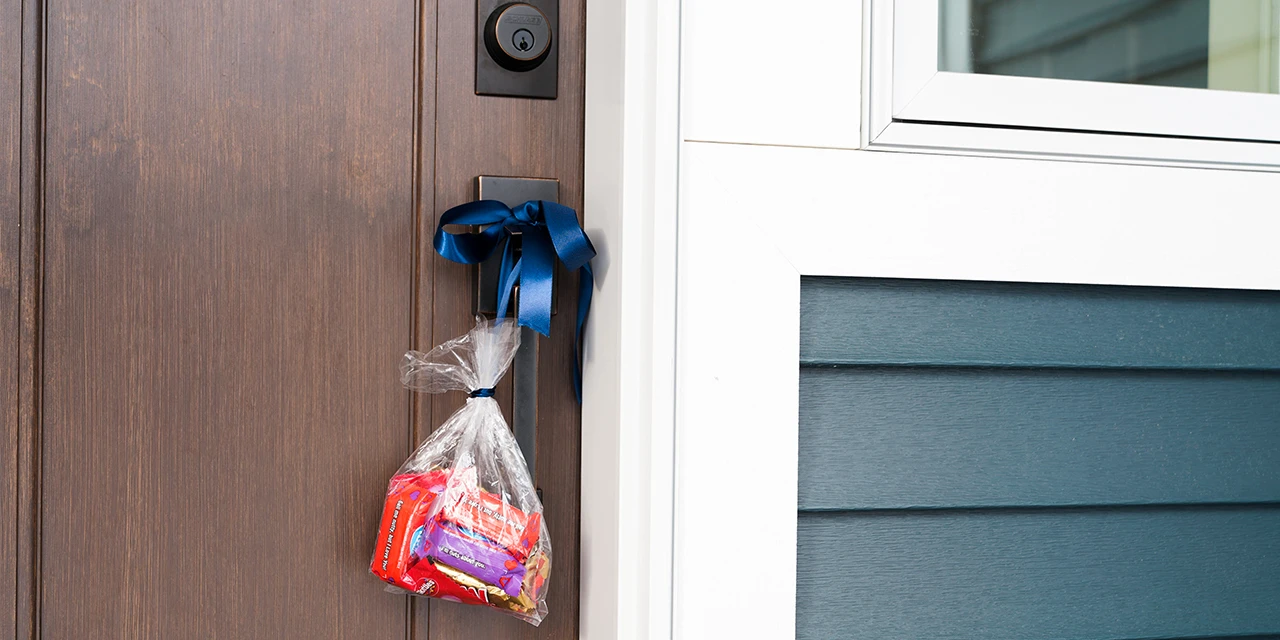 Tasteful, Personalized and Helpful Gifts
Cookies and casseroles are classic, but your neighborly gift-giving doesn't have to be limited to these items. Check out a few of our favorite ideas for tasteful, personalized and helpful gifts they'll love.
Tiny Door-Handle Gift Bags – Welcome them at the front door with a tiny door-handle gift bag. Find some ribbon and a small, clear bag to tie candy or other small gifts to their door handle.
Batch of Baked Goods – We lied. Baked goods, like a plate of warm cookies, make wonderful gifts! Surprise your neighbors with something different, like chocolate-covered strawberries.
Live Wreath – Live wreaths are a beautiful gift with zero commitment. Your neighbor will be excited to display your gift on their door without feeling obligated to keep it up forever.
Fresh Flowers – You can't go wrong with a beautiful bouquet of fresh flowers. Cut some from your garden or choose a store-bought arrangement. Don't forget the vase!
Lemonade Kit – When a neighbor gives you lemons, make lemonade! Prepare a pretty glass pitcher with lemons and a wooden spoon.
Bottle of Wine – Like flowers, you can't go wrong with a bottle of wine. Even if your neighbor doesn't decide to drink it, they'll have a great go-to gift for another event on their schedule.
Takeout Menu Bundle – Collect your favorite takeout menus from local restaurants and bundle them together with a ribbon. Don't forget to circle your favorite dishes!
Bagel Breakfast – If you're grabbing bagels and coffee for your family one Saturday morning, consider getting a second batch for your neighbor. Don't ring the doorbell too early, though!
Moving-Day Snacks – Are your neighbors just moving in? Purchase fruit or packaged snack items that they can grab easily and keep going. They'll be immensely grateful!
Happy Houseplants – Add something new and green to your neighbor's décor! A happy houseplant will encourage pure air and boost the overall mood.
Seasonal Doormat – Like a live wreath, a fun doormat is a thoughtful gift your neighbor can set out for a holiday and put away for next year.
Contact Information and Local Favorites – With any gift you choose, always remember to include your basic contact information. Your neighbor will likely reciprocate!
While you're at it, write a list of/share business cards for reputable home service professionals in your neighborhood. They'll be thankful to have a vetted list of folks they can trust!
The Neighborly home service professionals in your neighborhood would love the opportunity to serve you and your home. Search for your local pros by entering your zip code on this screen. Or, visit our homepage to learn more about Neighborly services.