Elegant and Fun DIY Winter Wreath Ideas
Feeling creative and ready for a cheerful season? Try one of these DIY winter wreath projects.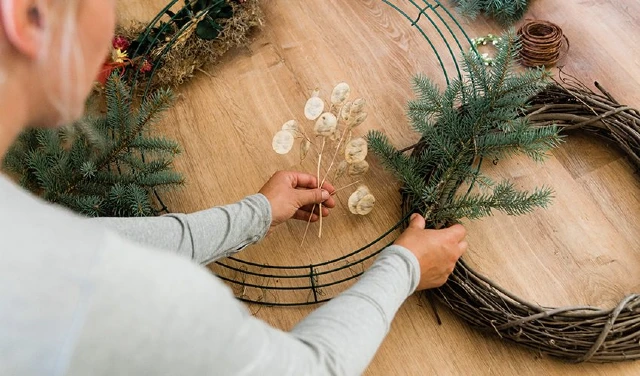 Timeless Boxwood Branch Wreath
What do you see when you think of holiday and winter wreaths? A classic green wreath with red berries, right? You can easily make a classic boxwood branch wreath at home in a single afternoon.
You need these supplies:
Faux boxwood branches
Faux greenery (various shades and textures)
Faux red berries
Florist wire
Grapevine wreath
Floral clippers
Hot glue
Assembly is simple. Start by trimming the excess stems from the boxwood branches, and tie small, tidy bundles with florist wire. Do the same with the greenery. Begin hot gluing the bundles to the wreath, alternating between boxwood and greenery bundles. Be sure to hide the stems. Finish by gluing the red berries onto the wreath, using as few or as many as you like.
Planning to hang your cozy wreath on a not-so-cozy, drafty glass door? Insulate your door with these tips from Glass Doctor®.
Kid-Approved Candy Cane Wreath
Why keep all the DIY winter wreath fun to yourself? Kids will love making a candy cane foam wreath. This family-friendly project is mess-free and only takes a few minutes to complete.
Gather these materials to get started:
Foam ring
White and red yarn
Scissors
Hot glue
Jingle bells (optional)
Start by wrapping the white yarn all the way around the ring. Use hot glue to secure both the starting point and endpoint. Next, create candy cane stripes with the red yarn. Place the stripes at equal intervals. Glue on a few bells for some joyful noise, and then hang your creation!
While the candy cane wreath looks fabulous indoors, you can also hang it outdoors – just keep it away from dirt and ice. Protect your house (and wreath) from falling ice and water damage by checking for ice dams with these instructions from Rainbow International®.
Festive Winter Yarn Wreath
A yarn-based winter wreath idea looks elegant. Add a touch of class to your home this season using the tips below.
Gather these supplies:
Foam ring or another wreath base
Yarn (Any color, but we suggest whites and blues for winter vibes!)
Bottlebrush mini pine trees
Hot glue
Wide ribbon
Tightly wrap the yarn around the entire wreath base, covering it completely. Next, glue the bottlebrush trees in the bottom center of the wreath. (They should stand up in the middle of the circle.) Tie the wide ribbon to the top and hang your DIY wreath on a window. Looking for help with wreath hanging? See whether there's a local Window Genie® that can help you with wreath hanging, holiday lights, and more.
Traditional Pinecone Wreath
Pinecones are the epitome of winter décor. A DIY pinecone wreath only takes a few minutes to make, and you'll enjoy it all season long.
Here's what you need:
Plenty of pinecones
Wire wreath form
Natural twine
Hot glue
Wrap the twine around the wreath form. This will give the pinecones something to stick to. Start hot gluing the largest pinecones around the perimeter. Continue adding pinecones to the inner layers until you can no longer see the twine. Hang the wreath on your front door or porch. Think it's time to paint your front door a different color? Five Star Painting® has opinions about that, plus other great advice for prepping your home for the holidays.
Repurposed Sweater Wreath
Winter brings sweater weather! And you can also make some charming decorations with chunky, knit-cable sweaters. A repurposed sweater wreath will bring warmth to your winter décor.
Find these supplies to try this winter wreath idea:
Old sweaters (Any color or texture will do!)
Straw wreath
U-pins
Cut the sweaters into wide strips. Pin one strip to the wreath, wrap it around, and pin the other end in place. Do the same with the other strips until you have the coverage and pattern you desire. Decorate with frosted pinecones or other decorations, if desired. Do you live in an area where it doesn't get very cold? Forget the sweaters and check out Aire Serv's ideas to make the holidays feel festive, sans snow.
Prepare Your Home for the Winter Season
We hope these winter wreath ideas will bring cheer to your home. If you need other home improvements and repairs, make Neighborly® experts your wintertime helpers. Visit our homepage to search for any home service you need help with this season.