Easy Ways to Exercise at Home
Sick of paying for an expensive gym membership you might not even use? (It's OK – we're not judging!)
It's possible to get a balanced workout in the comfort and convenience of your home. Try some of these easy ways to exercise at home!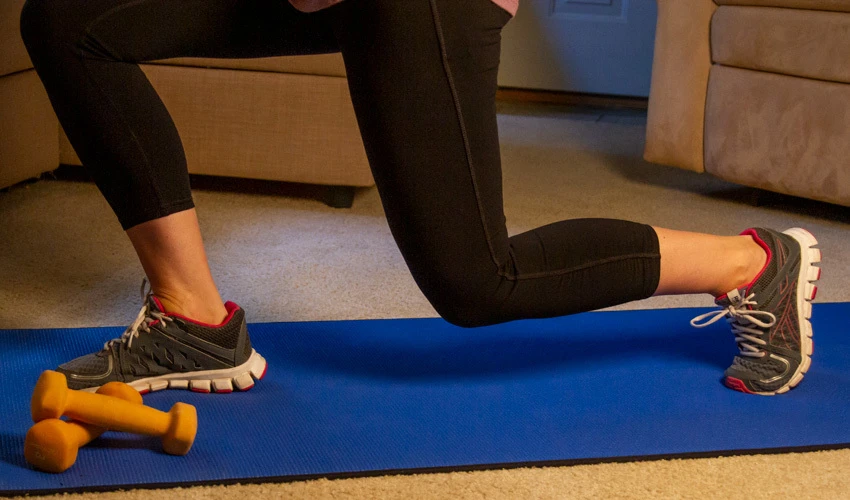 Formula for a balanced workout
A balanced workout consists of four general components:
Warm up
Cardio
Strength/resistance training
Cool down/stretching
For example, your cardio at home might consist of taking a jog around the neighborhood or using an at-home cardio machine. Your strength and resistance training might involve some free weights or resistance bands you have on hand.
That said, there's no single way to satisfy any of these categories. That's good news, because each can be completed using common household items and your own body weight.
Want to build an at-home gym? Here's how!
Easy at-home ideas
Run laps up and down the stairs – this gets your heart rate up and tones the glutes!
Try staple exercises like sit-ups, push-ups, jumping jacks, squats, and lunges.
Find peace in the chaos of your day with yoga or Pilates!
Blast upbeat music to get you in the zone.
Use Pinterest, YouTube, or your favorite social media influencers for workout inspiration.
Find a workout buddy and take turns planning workouts!
Be resourceful – use walls for wall sits, a chair for tricep dips, and countertops for push-ups!
Bust a move and break a sweat with a dance game or video game.
Do your chores, like vacuuming or scrubbing the tub, in a dramatically-active way.
Not into dramatically-active chores? Want to build your very own home gym? We've got the professionals who can help with cleaning, carpentry, and any home maintenance need you might have. Visit our home page to explore our family of brands and to schedule service with a local Neighborly professional.