DIY Wall Planter Ideas and Instructions
A do-it-yourself wall planter is a unique and eye-catching way to incorporate the beauty of nature into your home décor. Start small with a simple wall planter, or go big with an entire DIY living wall – a vertical garden is a project you can complete even if you don't have extensive carpentry skills. As an added bonus, studies have shown that green plants can help to purify the air, increase productivity and reduce stress.
Let's take a closer look at some inspired DIY wall planter ideas and the basic instructions you need to get started. Plus, we'll point you to some Neighborly® home service experts that can make your project a success, whether you need a little guidance or want to schedule services to save time and hassle.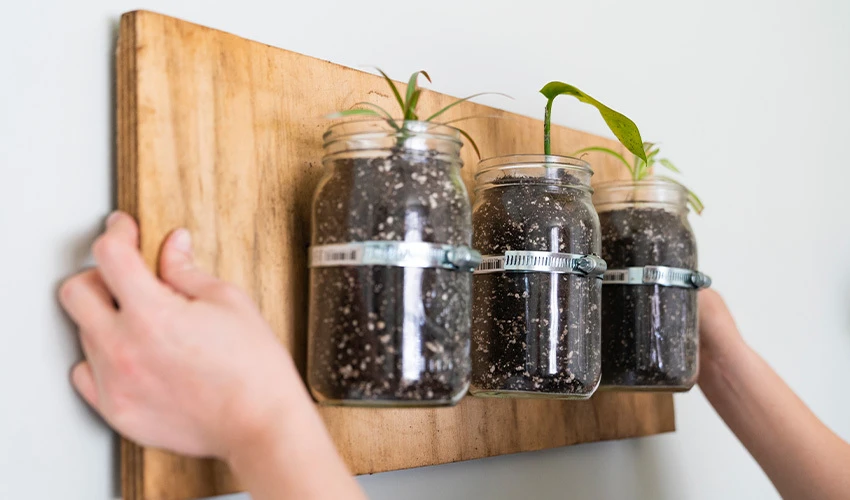 Want to spruce up a wall in your living room? What about your front porch or balcony? As long as your DIY wall planter is in an area that gets some sun – even if it's indirect sun – you can choose plants that will be happy there year-round. (Scroll for plant recommendations!)
From small greenery bouquets to detailed succulent murals, here are a few fresh-cut wall planter ideas with instructions:
1. Hang Individual Wall Planters Side-by-Side
Several small green plants in terracotta pots create a gorgeous display on any wall. With a level, tape measure and drill, just connect plant clips (an any pattern) to the wall using drywall anchors and screws. Then attach the planted pots to the clips. If the pots have drainage holes, that's okay, but you should line them with a liner bag before planting to prevent drips. Just be prepared to change out the soil in your planters periodically to prevent mold. You can get more household mold prevention tips from the pros at Rainbow International®.
2. Create a Trellis Plant Wall
While you may typically think of a trellis as an outdoor gardening structure, you can use it for your indoor wall planter too. This involves attaching a wooden trellis to your wall and hanging various styles of lightweight planters from it. Depending on your skill level, you can build the trellis yourself or purchase a premade one. To hang the trellis, you'll only need a drill, hacksaw, stud finder, level, short length of half-inch PVC pipe, and four 3.5-inch coated deck screws.
Cut the PVC pipe into four sections 1 1/8 inches long. Drill the deck screws through the trellis board, through the PVC pipe canal, and into the stud in the wall. The PVC pipe will keep the trellis slightly away from the wall, adding dimension and allowing for whimsical vine climbing. Finally, use zip ties to attach potted plants to the trellis.
Do your kids want to help with the DIY wall planter project? Teach them how to make these toilet-paper-roll seed starters with tips from our friends at Mr. Rooter® Plumbing. Or get them involved with plant cleaning. Molly Maid® explains this and the other nine places you're probably forgetting to clean.
3. Create a DIY Living Wall
A living wall is essentially "garden meets wall art." Just like the previous two methods, choose a wall in your home that gets decent natural light. You can use a variety of different structures for a living wall project, including oversized antique picture frames, hanging flower boxes or crates.
Below is the basic process of creating a DIY living wall, featuring succulents and a wooden pallet:
Find a pallet that is the right size for your wall, or use multiple pallets to create the desired effect.
Use a staple gun to attach landscaping cloth (like this) to the inside of the pallet on the front, and the outside on the back. Cut the fabric about 4-inches too big in all dimensions, so you can fold it to cover the edges.
Fill the pallet with potting soil from the open top edge.
Cut holes into the cloth large enough for the succulents to fit in snugly.
Water the plants from the top until the dirt is soaked but not dripping. There's no need to water them again until the soil has dried out completely.
After placing the succulents in the pallet, give them time to root (approximately one month) before hanging the pallet on your wall. Once you bring them inside, check out these tips from The Grounds Guys for indoor plant care.
To hang the living wall planter, attach eye hooks to the back of the pallet and connect heavy-duty chains to the hooks; then hang the chains on nails you have drilled into studs in the wall.
You can choose from a variety of plants for your wall planters or living wall project. Include plants of different shades of green and other colors for eye appeal. For best results, select low-maintenance plants that require minimal water and light, such as these:
Sanseveria
Pothos
Peace Lily
Croton
Crassula (jade-family succulents)
Want to add a little something extra to your garden wall? Complement your planter with shelving or a tabletop glass terrarium.
If you love the idea of a wall planter but you aren't sure about building one, Mr. Handyman®, if locally available, can help you to build a custom planter to meet your specifications.
You can always turn to the Neighborly team of trustworthy experts, like Mr. Handyman, for the reliable home services you need. Our family of providers is happy to help you make any project hassle-free and successful. Search for services here or in our website menu to find a trusted, local professional.