Dispose of Your Christmas Tree Properly
When the holiday celebrations come to an end, the Christmas tree is typically the last to exit. It's difficult to part with the tinsel and lights! Unfortunately, your tree should come down at some point, especially if it's a real one.
Don't just kick your tree to the curb! Neighborly has ideas and tips to dispose of your real or artificial Christmas tree properly.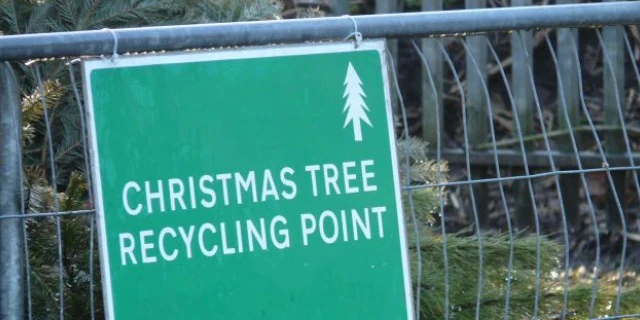 How to Dispose of Your "Real" Tree
Your real tree has several opportunities to be repurposed – don't get rid of it just yet! Check out these ideas:
Stick your tree outside. It will blend with your current foliage and serve as a home for backyard wildlife.
Use your tree as a "blanket" for your perennials. This unique covering will protect your plants from the harshness of winter weather.
Start a new compost pile with your tree as the centerpiece!
Cut it up and use your tree as mulch in your garden.
Gift some fish a new piece of furniture! By sinking your tree into a pond, you're giving fish a new holiday-inspired habitat.
Create some new coasters for your living room! Saw off the tree branches and cut the trunk into thin slices. Be sure to sand, stain and seal to get them ready for your winter mugs!
Call your local zoo! Some zoos welcome Christmas trees as playthings for their animals!
If you don't feel like repurposing, make sure to recycle! Check with your city to find a tree drop-off center near you.
A repurposing idea we don't recommend? Turning your Christmas tree into firewood. The high levels of creosote (which is like tar) creates dangerous smoke and buildup.
How to Dispose of Your Artificial Tree
Ready to upgrade your artificial tree or chop down your Christmas tree next year? There are still ways to purposefully dispose of your old artificial tree.
Repurpose by cutting branches to create décor like wreaths, garlands and napkin rings.
Make a mini Christmas tree (perhaps for a child's room!) by cutting off the top of the tree and placing in a container of your choice.
Donate to a thrift store, nursing home, school or charity. Bless someone in need with a tree they'll truly cherish next year!
When the holiday season comes to an end, don't kick your beloved tree to the curb! Try repurposing or recycling this year.
Need a home service professional in this season? Visit our homepage to discover the "Neighborly difference" and enlist one of our trusted professionals.