Converting a Small Space into a Laundry Room
A surprising number of older homes – and even some newer ones – didn't give much thought to giving homeowners a convenient, comfortable space to do laundry. Too often, the washer and dryer end up crowded into a basement or garage, requiring multiple trips up and down stairs or in and out of the house with heavy loads.
If you are dealing with inconvenient and inadequate laundry space, you may be wondering what you can do to address the issue. The good news is that many existing small spaces in your home can be converted into beautiful, functional laundry rooms. With a little planning and creativity, you may be able to create the laundry room you've always wanted for your home.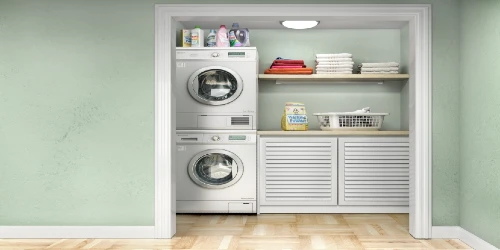 What Room Should You Use?
When looking for a good spot for a new laundry room, it's important to consider what it will take to successfully convert the space. Although almost any small space can be made into a laundry room, it's important to consider potential issues such as access to plumbing and vents, noise, and the relative convenience of the space.
If possible, it's best to use a room that already has easy access to existing water pipes. But even if your preferred location doesn't, you can still add a plumbing extension to make it work. Potential areas of your home that might make a great laundry room include a walk-in closet, pantry, guest bathroom, or mudroom. While the space itself may be small, it might be just the right size for your new laundry room.
Choosing Your Layout
Once you have a location in mind, your next step is to figure out how to arrange your laundry room to accommodate your washer and dryer, laundry supplies, baskets and hampers, and, if possible, a horizontal work surface. You'll need to know the exact size and style of your washer and dryer and plan enough room to ensure they fit.
Some styles of laundry machines are taller than others, such as stackable units or those designed to be placed on pedestals. It's also important to ensure that you'll have clearance for front-loading machines, and that any doorways or stairwells leading to the space are large enough to allow your appliances to pass through them.
Maximizing the Space
To make a small laundry room functional, it's important to use every inch to it's fullest potential. To maximize the space in your new laundry room, consider all of the ways you can make the space really work for you. For example, if you have front-loading machines, consider adding a countertop above the washer and dryer to give you a convenient workspace.
Also, be sure to use the vertical space you have as well. Add custom shelves or cabinets above your appliances to store essential laundry supplies. Install hooks or over-the-door storage to keep your larger items out of the way, while fold-away ironing boards, built-in hampers, and other features can help you make the most of your small space.
Keeping It Safe
As with any home renovation, it's important to include safety features in your remodeling plans. When working with plumbing or moving a dryer vent, you may need to add extra features to prevent accidental flooding and fire. For example, to prevent water damage in your home, it's a good idea to install an automatic shutoff valve that will cut off the water supply to the washer if a leak or burst hose is detected.
What is more, you'll need to have an adequate power supply to prevent fires. While most electric appliance use standard three-prong plugs, an electric dryer requires a special 240-volt outlet. If you don't already have a 240-volt power supply in your new laundry space, you may need an electrician to install one.
Laundry Tech
Your new laundry room may be small, but that doesn't mean it needs to be low-tech. In fact, there are many new laundry tech gadgets that can make doing your laundry more efficient while taking up less space in your home.
For example, new all-in-one laundry machines will both wash and dry your laundry, and even let you pre-load detergent and fabric softener. Or, if folding laundry is an unpleasant chore, consider upgrading to a clothes-folding machine. With tech upgrades like these, your laundry room may soon become one of your favorite spots in the house!
If space in your home is already tight, there are other ways to add a laundry room that you will love to use. If you've got the budget and some extra room on your lot, consider the benefits of building a laundry room addition to your home. Not only will the extra space be a welcome place to get your laundry done, it may also add value to your home and a new level of convenience to your life.
No matter where your plans for a new laundry room take you next, you need expert help and advice to make your dream a reality. At Neighborly, we have a family of home service brands ready to help you convert your small space into a laundry room. With our professionals at your service, you can easily make your home a more comfortable place to live, work, and play!