Boost Curb Appeal: Outdoor Projects to Increase Home Value
With the help of some of our recent "Expert Advice" blogs, you might have made some interior updates to your home, especially if you're looking to sell. Have you also considered how the exterior of your home can add value?
The reality is, if people aren't welcomed and intrigued at the curb, they may not make it inside your home to see these updates. Frustrating, right? Luckily, we've got some great ways to help you boost curb appeal and support the work you've done indoors.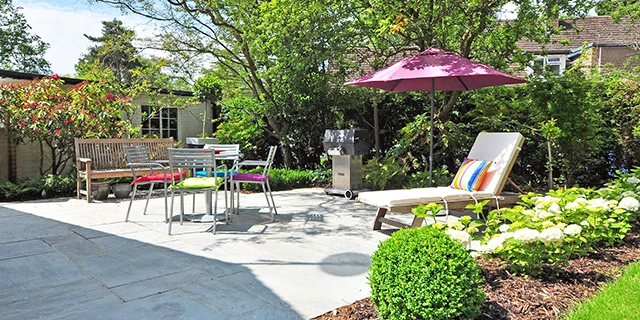 How to Stun Them at the Curb
Give your exterior a fresh coat of paint. The outside of your home could be the first thing potential buyer notices from the curb – make it beautiful! Five Star Painting can help.
While you're at it, show your front door, trim and shutters some TLC as well! A fresh coat of paint on these features will make your home look polished and accentuate the paint you've just put on the exterior. Paint your door a bold color for unexpected flair!
Pay special attention to your landscaping. Trees, flowers, shrubs and a green lawn will give passers-by faith that you care for your home well. The Grounds Guys would love to help you beautify!
Remove ugly stains from your driveway. If your driveway has seen better days, now's the time to give it a pick-me-up! Window Genie can do the pressure washing for you! Also, check out these expert tips from Molly Maid on erasing greasy driveway stains.
Update your mailbox. You've got mail! Give your box a fresh coat of paint or consider replacing it completely with one that matches your home's style and personality.
Mount your house number. Is your number painted on the curb? Consider purchasing a custom one you can mount on the house itself.
Install flower boxes beneath your windows. Flowers beneath your windows add the perfect punch of color to your home. Mr. Handyman can help you build the perfect ones to frame your windows!
Invest in beautiful exterior lighting. This tip is perfect for those night-owl house hunters! Illuminate the pathway to your front door with the help of Mr. Electric.
Go "keyless." Investing in a keyless door lock is a great update! Homebuyers will feel secure with this modern technology at the front door. Mr. Electric can help with the installation!
Add a fountain to create interest. Once you've tackled some of the basics, have fun with creative updates! Adding a fountain or other artistic elements adds something unique to your curb appeal. Keep it simple, though. Too much can feel overly busy and distracting!
Fancy up the front. From rocking chairs to welcome mats, your finishing touches will solidify a potential homebuyer's choice to step inside.
Welcome home! With these outdoor improvement tips, they'll envision themselves pulling in your driveway in no time. Check out our website to learn more about Neighborly service professionals in your community who can assist you.