Guidelines for Painting a Crib Safely
Are you feeling inspired to beautify your baby's nursery? If so, you may be wondering if it's safe to paint a crib or even asked, can you paint a crib?
In most cases, painting a crib is safe provided you follow certain guidelines for crib material, paint selection, and ventilation.
Before you whip out the paintbrush, read on to learn some tips for painting a crib safely. We will also share how some of our Neighborly® home service providers can offer inspiration, guidance, or services to help you create a comfortable space for your bundle of joy.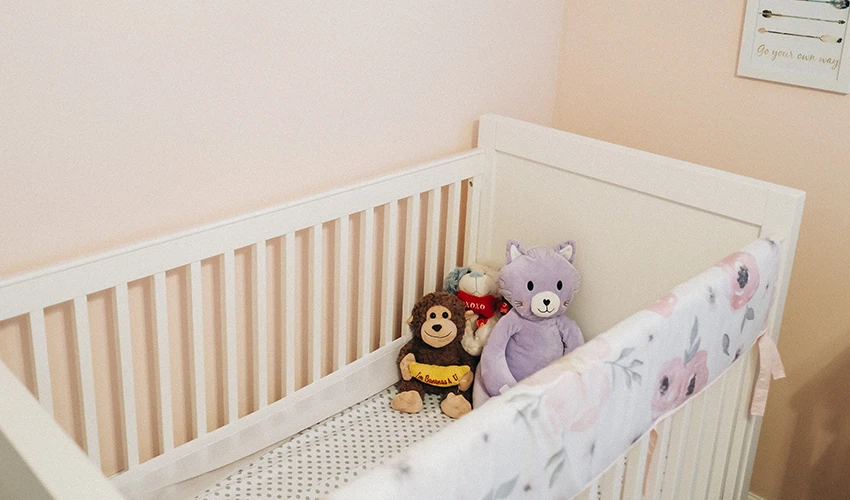 Is It Safe to Paint a Crib Made of Wood?
The first step to making a painted crib baby-safe is ensuring that the crib material will not flake or peel when painted. Cribs made of wood are typically acceptable for painting, though a crib made of plastic or another non-wood material may not be suitable. No matter what material your crib is made of, check the crib manufacturer's recommendations to determine whether painting is a good choice.
What Type of Paint to Use on a Baby Crib
Here's what you may want to consider when choosing the right paint for a crib:
Choose only nontoxic (meaning it contains no silicates or lead), odorless paint that has zero volatile organic compounds (VOCs). Keep in mind that while the original paint may not contain any VOCs, VOCs are often added when tinting the paint to your chosen color. Select paints that are approved under the SQAQMD-113 regulation, which regulates the VOCs both in the paint base and in tinting agents. It may be prudent to look at a "waterborne interior acrylic enamel" which meets these standards.
For even greater peace of mind, consider choosing paints that are EN71-3 or ASTM F963-17 certified. These certifications mean the paint is nonhazardous and should be safe for children's toys.
Do not use sealants or paint additives that have not been approved for use on children's toys or cribs.
The best paint finish depends on personal preference. Many people choose semi-gloss paint due to its visual appeal, low maintenance, and durability.
Crib Painting Guidelines
Here's how to prepare for the project and plan your technique:
If you are painting over an existing coat of paint, sand the original paint until smooth. Be sure to do this in a well-ventilated area and use a mask or other form of breathing protection that is appropriate for the surface being sanded (N95 or better for wood, N100 or even the P100 respirators for paint that may contain lead, oils, or solvents).
If you are using an older crib, make sure the existing paint is lead-free and nontoxic. When in doubt, scrape it off!
Have fun with color! Rather than traditional gendered colors, consider neutral, metallic, or bright colors to provide contrast with the nursery décor. Here are some great ideas for gender-neutral nursery colors.
Choose a high-quality, 100% nylon paintbrush for best results.
Avoid painting over crib safety components such as screws or latches. If possible, remove them prior to painting and replace them once the paint is dry.
Allow the crib paint to dry in a well-ventilated area; double the typical amount of drying time.
If you plan to paint painting pregnant check out this helpful advice on painting while pregnant from the Five Star Painting® experts before you get started.
If you would rather let the pros handle the crib painting project for you, find out if there is a Five Star Painting near you.
How to Paint a Crib the Right Way
Once you have selected paint that is baby safe, let the fun begin! Here are the steps for painting the crib:
1. Lightly sand the crib.
Choose a medium 180-grit or fine 220-grit sandpaper or sanding sponge. Scuff sanding enables the new paint to bond optimally. After sanding, wipe away dust with a tack cloth. Remember to wear a mask when sanding away old paint to avoid breathing in any particles of paint.
2. Apply a primer to the crib.
If your crib is not already painted, or if you are drastically changing the existing color, apply one coat of primer. If the crib is already painted a color that's close to the new one, skip to Step 4.
3. Allow the primer to dry thoroughly.
Drying time for primer will vary depending on the manufacturer, the room temperature, and the humidity level. When in doubt, exceed the recommended drying time.
4. Consider lightly sanding again with fine sandpaper.
Unless the paint instructions recommend otherwise, a second, light sanding – also known as "giving it a tooth" – encourages the paint to adhere to the surface. After completing the second sanding, wipe the area down again with tack cloth.
5. Begin painting the crib.
Apply the paint with a high-quality 100% nylon brush in the direction of the wood grain. Avoid applying a thick coat, which can lead to streaking and dripping. Instead, paint one even coat.
6. Paint a second coat.
Once the first coat is completely dry, apply another coat of paint if necessary. Use even brush strokes and smooth out drips for a finished look.
7. Dry once more before use.
Allow the paint to dry in a well-ventilated area for twice as long as the paint manufacturer recommends. Open windows and run fans to get rid of any lingering odor before using the crib.
Create a Safe Space for Your Baby
Preparing your baby's nursery is an exciting time, but it can also lead to some anxiety and worry. Ensuring your baby is safe and comfortable will bring you peace of mind and help you to enjoy this special time.
When you're preparing to welcome a baby into your home, Neighborly's family of brands can help! Let Aire Serv® show you how to set the thermostat correctly to make your baby extra cozy. To help keep your baby's toys as clean as possible, Molly Maid® has safe kids' toy cleaning tips to guide you.
The Neighborly family of home service professionals is here to help you along the way – whether you are looking for expert advice or services from our top-notch brands. Neighborly is your source for trusted, local home services professionals.