Are Open Concept Homes Going Out of Style?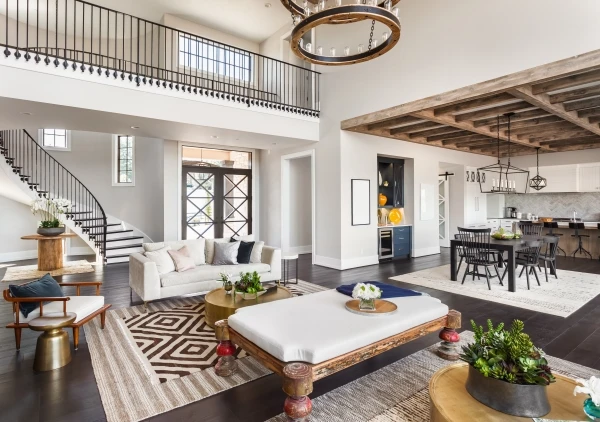 Maybe you have heard the term 'open concept' before but you're not quite sure what it means. Well, an open concept floorplan basically combines a few rooms into one. It's popular with kitchens, living and family rooms, and dining areas. What makes it open is there are no walls separating the rooms, thus the 'open' design.
While many designers and homeowners still appreciate the open concept floor plan, with more people working from home than ever before, many are reconfiguring their living space to create a dedicated office and more private workspaces. And although recent events have led to more people working from home and reconfiguring their living space to create a dedicated office (i.e., more walls), many designers and homeowners still appreciate the open concept.
We'll review some of the pros and cons of an open concept floorplan so you can decide if it's right for you.
Why Open Concept Isn't Fading in Popularity
As dedicated workspace became more important to homeowners over the last few years, there was a shift in popularity away from the open concept style, but it hasn't gone away completely. Instead, designers are being tasked with finding the sweet spot between open and a more dedicated space layout so families can have the best of both worlds. After all, the appeal of a more open floor plan—such as improved traffic flow and more natural light—is undeniable. These days, it's more about creating private spaces to work in tandem with an open concept.
Are Open Concept Kitchens Still in Style?
In many cases homeowners are looking for remodeling options that create more privacy throughout the home, however, the trend doesn't seem to apply to kitchen spaces. Open concept kitchens are as popular as ever, although some floor plans are being refined with additions like nooks and seating areas that provide a little separation.
Your kitchen layout choice will come down to the look and feel you love most. Additionally, these design decisions might also depend on which walls are load-bearing versus decorative.
Related Topic: Increase Home Value: Room-by-Room Improvements
Pros and Cons of Open Concept Home Design
Since the 1990s, most new construction and home renovations embraced the idea of an open floor plan. However, there are some homeowners who are choosing to bring back the walls. So, what design option is best for your needs? To help you decide, we'll review some of the pros and cons of an open floor plan:
The Pros:
Enhanced traffic flow, great for entertaining guests.
Easier communication and social interaction.
More natural light and shared light from room to room.
Easier to supervise children from one vantage point.
More flexibility for room layouts and furniture configurations.
The Cons:
More expensive to heat and cool (especially with high ceilings).
Noisier than homes with more walls.
Less privacy.
More clutter appearance because everything is out in the open.
Higher construction costs (to remove existing walls).
Since the pros and cons are about even, it's important to consider which benefits are most important to you and your family, and also work with your lifestyle.
How to Star Reshaping Your Home
The good news is, it's possible to enjoy the benefits of an open concept home design while incorporating some features that provide separation and privacy. Here are some things to keep in mind as you strive to get the best of both worlds:
Only hire licensed professionals to remodel your current space. They can provide suggestions and ideas on the best way to convert your extra room into a home office, den, or reading room.
Make sure you have adequate lighting, ceiling fans and enough outlets. This may require an upgrade or your electrical panel, or wiring.
Hire Trusted Pros
No matter what type of floor plan you decide on or how you update your home, always choose a licensed professional to do the work. A professional will stand behind their work and make sure you are satisfied with both the quality and schedule.
Neighborly has a whole family of devoted home service experts that can make your next project a success. Visit us online to learn more about all the home services we offer.