Adding a New Laundry Room
No matter where you live or what your current lifestyle looks like, there is one task that every one of us shares: doing the laundry. In fact, the average family spends 12 hours a week (or more!) just doing the laundry.
With so much time spent caring for your clothing, linens, and other washables, it's no surprise that most homeowners would rather not make the task harder by hauling heavy loads to and from the laundromat, up and down the stairs, or even back and forth from the garage. Instead, many homeowners are choosing to build a laundry room addition onto their homes. With a beautiful new laundry room on your home's main floor, not only will it make the chore of doing the laundry easier, but it may also add value to your home.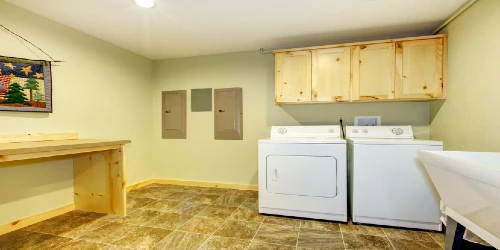 Where and How Big?
If you are thinking about adding a laundry room to your home, one of the first decisions to make is where to put it and how big it should be. When considering a laundry room's location, it's important to consider not only convenience, but also access to plumbing and vents, as well as any possible issues with noise.
If your ideal location isn't close to existing water pipes, you'll need plan to add a plumbing extension. Then, decide how big your new laundry room should be. In general, the minimum size for a laundry room is 9 feet wide by 11 feet long. But it's important to consider your circumstances and household needs. If you want room for more than just your washer and dryer, a bigger laundry room is better.
Painting and Cabinets
Once you have your size and location figured out, it's a good time to consider how the interior of your laundry room will look. When choosing paint colors, light colors often work best for smaller rooms. But keep in mind that laundry room walls are also often exposed to moisture, so opt for a satin finish. Your painting pros can recommend a satin paint that will absorb moisture and stay looking fresh for years.
But a functional laundry room needs more than just painted walls. To ensure that you have the storage you need to keep your laundry room supplies tidy and organized, consider installing cabinets. There are many creative options for laundry room cabinets, all customizable for your particular needs.
Your Washer and Dryer
When designing the layout of your new laundry room, don't forget to consider the size and style of your washer and dryer. Depending on what type of washer and dryer you choose, you'll need to ensure that you have sufficient space to correctly install them. Do you want a front loader or top loader? Will you place your machines on pedestals, or buy a stackable unit?
Once you know your machine type and size, figure out how much space – including clearance in front of and above each machine – that you will need. Then, once your washer and dryer are installed, be sure to schedule regular maintenance appointments to keep them running at peak efficiency.
Laundry Sink
Other than your washer and dryer, a sink might be the most useful thing you could add to your new laundry room. If you haven't already, be sure to add a laundry sink to your layout. Not only can you use a laundry sink to soak stained clothes, you can also use it for a wide range of other messy jobs. Whether the dog needs a bath or your shoes are covered in mud, a laundry sink can keep the dirt out of your kitchen or bathroom.
There are many different kinds of laundry sinks to choose from, ranging from freestanding styles, drop mount, undermount, and more. You'll then need to choose between stainless steel, polypropylene, or cast iron. Depending on your planned use and budget, you can choose the type and style that will add enhanced functionality to your new laundry room.
Laundry Tech
Of course, a laundry room doesn't just have to be about function. There are plenty of laundry tech gadgets available to help you add a custom "wow" factor to your new laundry room. Hate folding your clothes? Consider adding a clothes folding machine to save time! Or maybe a new all-in-one laundry machine is the next-level appliance you never knew you needed.
Building a new laundry room addition to your home can be a big investment. If you don't have the budget or space for an entire addition, don't despair: there are ways to convert existing space in your home to a laundry room, too. For example, if you've got an unused closet, that might be an ideal location for your home's new laundry room!
Once you're ready to get your laundry room project underway, you'll need to know where to go to find help and advice to make your project a success. Why not explore all that Neighborly brands have to offer? Our home service professionals can help you keep your project on the right track. In less time than you think, you'll have a finished laundry room and all the convenience that goes with it.