Stop Outdoor Faucets from Freezing First
When chilling temperatures arrive, it's not a matter of "if" you should pay closer attention to your outdoor faucets, but "when" and "how." Even if you live in a warmer climate, the occasional cold spell has the power to do incredible damage to your pipes. Neighbourly is here to help you stop the faucet freeze before it starts! Use this guide to prevent frozen/burst pipes and the costly damage that follows.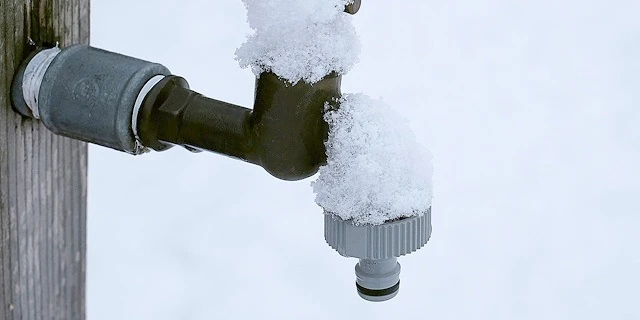 Why Cover Your Faucets?
Your outdoor pipes and faucets are vulnerable to freezing and bursting in the wintertime due to an increase in water pressure. Freezing and bursting often result in expensive water damage and repair costs for your home.
If you live in a warmer climate, you're not exactly in the clear – in fact, because homes in warmer climates aren't built for the cold, your pipes are likely not insulated well and are therefore more vulnerable.
Protect Your Pipes
The pipes in your home get to piggyback off the protection and insulation your home provides, but your outdoor pipes aren't so lucky! That's why it's crucial to take care of your outdoor faucets and pipes when the winter months arrive.
Before covering your outdoor faucets, it's important to remove and drain the attached hoses. Make sure all the water is out of the hose before wrapping up and storing it for the winter.
If you live in an extremely cold climate, you may have an internal shutoff valve inside your home. This valve allows you to adequately drain the water from the sillcock. Shut off the internal valve and drain the water from both the drain cap inside and the faucet outside.
Cover the exterior faucet with an insulated slip-on cover. This will prevent any remaining water from freezing. Exterior pipes should be wrapped with insulation tubing, which can be found at your local hardware store. Do not wrap your pipes with bath towels or newspaper! These coverings hold moisture like a wet rag and defeat the purpose of covering your pipes in the first place.
Frozen pipes? Don't panic! Check out these quick ideas and recommendations:
Take a walk to see which pipes are frozen.
Give them time to thaw – don't try to speed up the process.
Call a plumber (we know some good ones!) to make sure the freeze didn't cause any leaks.
Don't wait until a cold front to pay attention to your pipes! Use this guide to protect them before a freeze.
Didn't get to them fast enough? Mr. Rooter Plumbing, a Neighbourly Family brand, is ready to help! Check out more of our service brands at Neighborly.com.