Six Kitchen Tools You Need This Holiday Season
"Mommy, can I help?!" As you're preparing your holiday dishes, you're likely going to be doing some baking. Not all kids are interested in helping the cause, so when they ask, it's in your best interest to be stocked with the right tools.
You know to have the cookie sheets and rolling pins out and ready to go, but Neighbourly has compiled a list of some of the best and most unique baking tools you might not have considered. Check out this list and make baking efficient and fun this holiday season!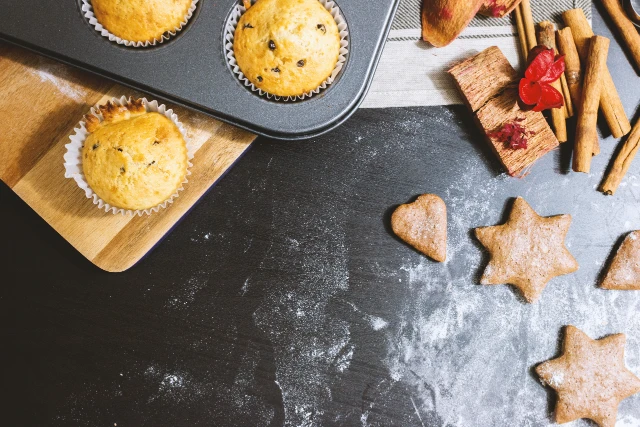 A Really Good Mixer
With all the baking that is about to ensue, relying on your arm for stirring will ultimately only get you so far. While you might get really strong using arm power alone, give yourself a break and use a mixer. This is the largest investment on our list, so it's important to do your research before purchasing. Cuisinart, KitchenAid, and Breville have great models that are both functional and beautiful!
Silicone Baking Mat
It's time to ditch the parchment paper! Silicone baking mats turn your pans into non-stick surfaces, making cleanup a breeze. These mats don't need any kind of greasing and work well with sticky items such as dough, taffy, caramel, and more. Spend less time cleaning and more time baking!
Digital Food Scale
The key to that perfect cookie? Precise measurements! A digital food scale will ensure your measurements are accurate each and every time. The digital screen allows you to view your measurement easily as you're moving about the kitchen. Take away the guesswork and make it easy for the kids to help, too!
Squeeze and Level Baking Spoons
Our next tool compliments your digital food scale incredibly well, so set your teaspoons and tablespoons aside! Squeeze and level baking spoons have a built-in "scraper" that ensures you scoop the perfect amount of ingredient every time. Perfectionists rejoice!
Cookie Press
Getting your hands in the freshly mixed dough to mold and form your cookies might be your favorite thing about baking – in that case, you might skip out on this tool. However, if you're in a time crunch, a cookie press is for you! This handy tool creates consistent cookies every time and even comes with fun shapes and patterns for the holidays. The tool also disassembles for easy cleanup.
Baker's Dusting Wand
Holiday baking can be as easy as waving your wand – your baker's dusting wand, that is! Boost the magic of the holidays by employing a baker's dusting wand. This tool is perfect for flouring pans and getting ready to roll dough. You can also use this tool for sprinkling final touches like powdered sugar and cinnamon.
Ready, set, bake! With these six tools, you'll be baking the treats your family and friends will rave about all season long. Looking for more holiday home advice? Check out our Expert Tips page.