Organize These Three Cabinets in Your Kitchen
If you've ever taken on a home organization project, you know the undertaking is usually larger than you initially expect. By the time you take inventory of your stuff, sort it and throw it away, half of your day is gone! However, by breaking it down by area, you can tackle one task at a time and conquer even your most cluttered spaces.
Neighbourly is here to help you organize your kitchen! Check out these tips on organizing three of the most common cluttered cabinets in your kitchen.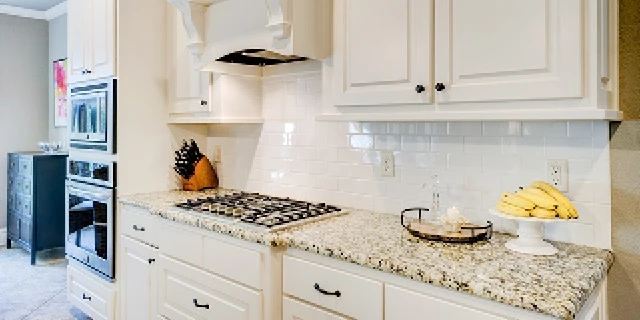 The Food Storage Container Cabinet
It's likely happened countless times before: You, the well-meaning victim, reach up to open the food storage cabinet and are greeted by an avalanche of containers and lids. Contrary to popular belief, you can bring order to this chaos!
The first step is to take inventory of your containers and lids. Do you have a container with no lid that fits? Toss it. Make sure every container has a match. If you're serious about getting organized, you may want to invest in new food storage containers altogether. By purchasing containers from the same brand family, you'll know that it stacks well together.
Stacking food storage containers like nesting dolls will save you space and help the entire cabinet be more organized. Consider purchasing bins to separate lids and containers, organizing the contents of the bins by size. If you're using a drawer to store your containers, consider investing in dividers for easy visibility and access. If you have plastic containers, you can even number your lids/containers by size with a permanent marker ("1" – small, "2" – medium, etc.), so you'll be able to find a matching piece quickly and easily.
The Spice Cabinet
Spices are essential to cooking a perfectly flavorful meal. However, storing your array of spices has likely been a challenge… until now! Whether you want to keep your spices hidden or accentuate them as a kind of décor piece, use these tips to organize your spices:
As with your food storage container cabinet, it's important to first take inventory of your spices. How old are your spices? Spices have a shelf life, so if you know it's been a while, it's a good idea to do some research on how long your questionable spices typically last. In addition, it's helpful to separate your everyday spices from occasional spices like those you use for holiday dishes.
Next, it's time to get organized. If you'd like to keep your spices hidden, you have several options. Consider hanging a wire basket in your pantry or on the inside of your pantry door. This way, you'll be able to easily access each spice. You can also use racks with different tiers in your kitchen cabinet so that you'll be able to see more spices upfront.
If your spice containers are "décor worthy," they should have a beautiful display to match! Consider placing your spices in a carousel that sits on your countertop. You can place it by your stove for easy access while cooking. Looking for a creative way to display? Put a small portion of the spice in a baby food jar and place them on your refrigerator/other magnetic surfaces! They will work as magnets and can be decorated to match your existing décor.
The Coffee Mug Cabinet
It's time to conquer the coffee mugs! When you're struggling in the early morning to brew up some coffee, the last thing you should be worrying about is your mugs. Use these tips to get them organized and ready to go:
Consider using an individual/a set of hooks to hang your mugs decoratively in your kitchen. Beautiful mugs, whether as part of a set of unique designs, could be just the splash of color that a blank wall needs!
If you're looking to utilize cabinet space, consider adding underbelly hooks to add hanging space or freestanding shelves to create different tiers.
Embrace visual storage options with a coffee cart or "nook." This way, you can have your coffee machine and coffee (bags or K-cups) readily available with your mugs. Don't forget a cute coffee sign to pull the space together!
Ready to organize the rest of your kitchen? Neighbourly suggests tackling your pots and pans, silverware, and kitchen "junk" drawers next! Looking for more advice for all things home? Read more blogs on our Neighbourly Expert Tips page.