How to Throw the Best Big Game Watch Party
Amid the ice pops and watermelon slices this summer, it's possible you crave a more elegant experience from time to time.
Whether you're an avid football fan or a devoted foodie, the "big game" provides a fresh chance to celebrate after the frantic rush of the holiday season. Knowing how to throw the best watch party ever will earn you a special place in the hearts of friends and family. Use these football party ideas to throw a party they'll love, whether their team wins or not.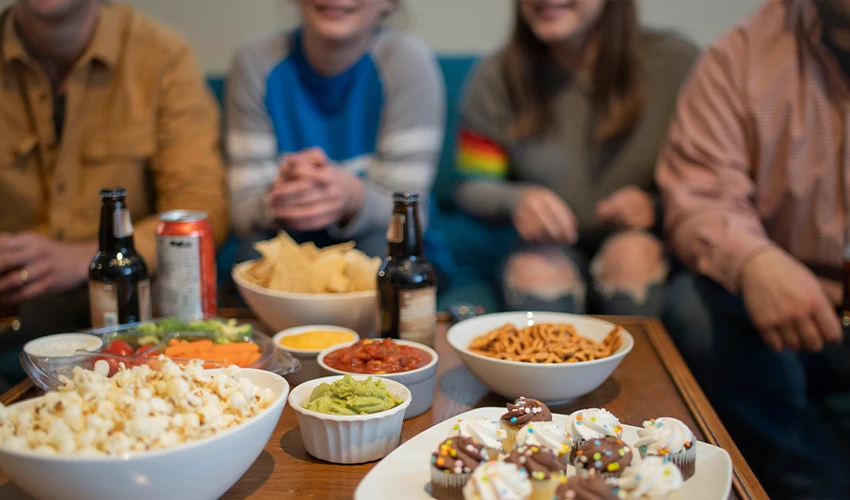 Quick Steps to Throwing the Best "Big Game" Watch Party
Decide on the party atmosphere or style.
Choose your party mates.
Plan your menu, decorations, and other supplies.
Select party games.
Schedule prep time.
Set ground rules.
Optional but wonderful: Hire home service professionals to free up your time for more celebrations.
Decide on the Party Atmosphere or Style
There are lots of ways to throw a party! Consider your budget and schedule. How much free time do you have to devote to party preparations? If you're short on time or money, a potluck or chili cook-off may work best. Or maybe you're envisioning a chic get-together with lovely serving dishes and hors d'oeuvres? Once you've narrowed down your objective, planning will be a snap.
Choose Your Party Mates
Decide who – and how many people – to invite so you can tailor your party planning to your intended audience. If you invite families with kids, try these tips for age-inclusive parties:
Provide kids with their own space (possibly in a separate room) and kid-friendly treats, including some healthy food options.
Plan some age-appropriate activities. Playdough and blocks are great for younger kids, and video games and board games may keep older ones happy.
Little guests, especially kids under 6, require close supervision. Enlist the help of a responsible preteen, or hire a babysitter. Otherwise, parents may need to take turns in half-hour shifts to watch the kids.
Menu, Decorations, and Other Football Party Supplies
Planning your menu and decorations in advance is essential if you want to be a serene, welcoming host on game day. Start by brainstorming – go wild! – and narrow your list down later. Here are some game-watching party ideas to inspire you as you plan.
Menu:
Choose ready-made items or easy recipes that can be made a few days ahead.
Ask your guests about their food allergies and preferences so you can provide something delicious for everyone.
Serve finger foods to cut down on silverware and plate use.
Offer a variety of snacks and a few heartier entrée options. You can't go wrong with pretzels, veggie trays, chili or sloppy joes, vegetarian cauliflower "wings," or buffalo chicken sliders.
Feature a specialty food bar – a baked potato bar or nacho bar, for example, with lots of toppings.
Provide a few sweet treats like mini cheesecakes or football brownies. Or ask your guests to bring a festive dessert.
Include a wide variety of beverages, and don't forget the ice! Assorted sodas, beer, sports drinks, and glasses for water are good bets.
Food presentation and decorations:
Consider these "big game" party supplies to make a festive atmosphere that cleans up easily later. Purchase recyclable or compostable plates, cutlery, cups, and napkins in brown and green (or team colors), or order specialty supplies. A football stadium-style snack tray can help everyone get in the spirit. Set up a buffet table close to the action. Use large, ice-filled plastic tubs for beverages.
For decorations, a few simple displays go a long way. Use paper streamers or balloons in team colors to set the mood. To make football coasters, glue AstroTurf sample squares (from a home improvement store) to equal-sized bathroom tiles. For extra flair, opt for green beverage tubs, and use white tape to re-create 50-yard lines on them. Alternatively, cover the buffet table with green felt, and add white tape as yard lines. Hang team pennants around the room to finish the look.
Other important party supplies:
Put these supplies in plain sight to make your guests comfortable.
Garbage bags
Spare hand towels
Mints
Hangers for jackets
Tea kettle and tea
Hot coffee
Seasonings (e.g., salt and pepper)
Pillows and throw blankets
First aid kit
Fresh flowers
Extra toilet paper
Matches and a scented candle in the bathroom
Take-home food containers
Select Party Games
Choose a few party games to keep guests engaged. If your group isn't too shy, have an end zone dance contest. Give participants a football, a designated space, and 1 minute to strut their stuff. Other football party games include the traditional football square or a team/mascot matching game.
You can also create cards for Commercial Bingo. Have people fill out their own cards, writing in products that they think will be advertised during the "big game." (To make it harder, name specific brands.) Check items off throughout the night and see who clears their card first.
Schedule Prep Time
Try to clear your schedule a day or two before game day to allow time for last-minute shopping, cooking, cleaning, and decorating. Clean the bathroom, kitchen, living room, and other areas where guests are likely to gather.
Re-check your inventory before heading to the store to purchase food and beverages. Be sure that your appliances are ready for game day! If you notice that something isn't working quite right, have Mr. Appliance check it out promptly.
Set Ground Rules
Before guests arrive, close off any rooms that you want to be kept private. Place extra wastebaskets – designated for trash and recycling – and encourage guests to clean as they go. Try to recruit a few lucky friends to help with a quick cleanup after the festivities wane.
Consider which guests are football fanatics and which ones are more interested in commercials and the halftime show. With a mixed group, promote party zones to maintain harmony. Let the zealots enjoy the big-screen TV in the family room while the gabbers visit the kitchen.
Spend More Time with Loved Ones
Hosting a party for the biggest football game of the year is a great way to reconnect with friends and family. We often forget to take time out of our busy days to have fun and build relationships. Neighbourly knows how important your home is to you, and we understand how busy your life can get. Let our family of home service experts lighten your load so you have more time to spend with loved ones. Explore all our services to learn what our brands can do for you.