How to Rip Up Carpet to Reveal Hardwood
Hardwood flooring adds character to a home and is a common wish list item for most homeowners. If you live in a home with carpet already installed, you just might have hardwood floors and don't know it yet!
Ready to rip it up and find out? Reference this guide for some quick pointers on doing it safely and quickly.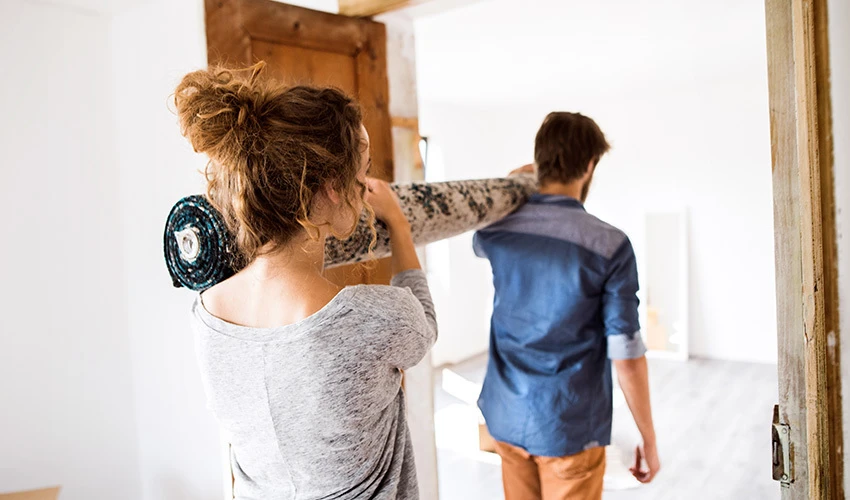 Remove it right
Removing carpet is a simple, but a laborious task. You'll be more successful and less stressed with a little preparation beforehand. Take a look at these general instructions.
To begin, grab your work gloves. Using safety goggles wouldn't hurt, either!
Insert a brand-new blade in your utility knife and start in the corner of the room by peeling up a small section of carpet. This is a low-risk move that lets you easily put your carpet back in place.
If you like what you see underneath and want to continue, make the job more manageable by cutting the carpet into three- or four-foot strips.
As you pull up your carpet, roll these small sections and haul them outside.
If you have track strips, carefully remove them with a hammer and a small pry bar.
If a tack strip nail breaks off and remains to stick out of the hardwood floor, remove it carefully with fencing pliers.
Would you rather have someone else rip up your carpet? Call a professional!
Restore your wood
Your hardwood is revealed, and it's beautiful – or, at least you think it might've been once! Here are some tips on restoring your hardwood floors to their former glory.
Sweep or vacuum your hardwood floors thoroughly, removing as much dust and loose dirt as possible.
Clean the floor with a damp mop. Sometimes this is the only step you need to bring your floor back to its original colour.
If the floor is in a little worse condition, invest in an at-home restoration kit. You might also need to use a sander to level out uneven surfaces or remove spotty staining.
Use a store-bought solution to help seal and protect your floors. If you're not sure what colour to use, you can test different options on a small piece of wood similar to the wood you have on your floor. Or, stain a small patch of the floor to see the colour in context. You can always sand that spot down and start again.
Freshen your floors
You've ripped up your carpet and restored your beautiful flooring. Now what? While you're on a roll, try freshening up other floors in your home!
For any carpet, you've decided to keep, give it a deep clean.
Deep clean the rest of your home with the help of professionals.
Give your "outdoor flooring" some TLC and give your lawn a fresh cut!
While you're outside, pressure wash your driveway or patio.
Our family of trusted home service professionals is ready to help you tackle any home service project on your list. Visit our home page to explore our brands and schedule service.