How to Maximize Space in Small Bedrooms & Closets
Mini, oh my! We as people are often fascinated with tiny things, or miniature versions of the things we're used to seeing. Puppies? Adorable. Babies? So cute! Tiny bedrooms/closets? Not so much.
You might not get those warm, fuzzy feelings when you slide open the door to your less-than-walk-in closet, but that doesn't mean you can't create a space you love! Neighbourly has some great ideas to maximize your space in small bedrooms and closets. You can fall in love with tiny spaces!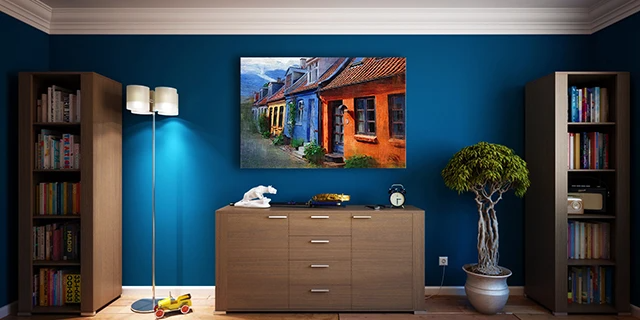 Keep, Toss, Donate
Just like you'd begin any other organization project, the best place to start is by taking inventory of the items you'll be organizing. Because you're working with very small spaces, this step is more important than ever! It's crucial to eliminate any unnecessary items before you can maximize the minimal storage space in your bedroom and closet.
Need help determining which closet items to ditch? At the beginning of the month, hang your clothes and turn all hangers in one direction. When you wear a piece of clothing, flip the hanger in the opposite direction. At the end of the month, whatever hangers haven't been "flipped" should be evaluated for tossing/donating. Check out last week's blog for more expert advice on keep, toss and donate piles!
Maximize Your Spaces
Once you've thrown away/donated necessary items, you can put things back smarter. Check out the following tips on maximizing the small spaces in your life:
Look Up – Your square footage might not be anything to boast about, but don't underestimate the power of "up!" Incorporating stacking bins, crates, and wall hooks will help you add value to the "vertical" in your bedroom and closet.
Tuck Under – Clear the dust bunnies! Random misplaced objects likely occupy the space under your bed now, but that's about to change. Utilize this valuable space with rolling storage bins to stow away seasonal clothing and shoes.
Dress the Door – Are you getting the most out of your closet and bedroom doors? "Dress" your door for success by adding over-the-door storage systems, such as shoe racks and baskets.
Take it Outside – Do you have a covered porch, patio, or balcony? Take it outside! If you have items that could be safely stored outdoors, you'll be able to free up valuable indoor storage space.
Work the Wall – Walls aren't just for décor! Not only can walls serve as useful storage systems, but they can help free up valuable floor space. For example, if you have a short wall inside your closet, hang a towel bar to store scarves. The possibilities are endless!
Raise the Rod – Ready for an unconventional tip? Raise your closet rod, if you're able, as high as it will go. This will free up floor space for a storage chest, dresser, or shoe cubby. Need some help? Enlist the help of an expert at Mr. Handyman!
Separate the Shelf – Do you have shelf space above the rod? Consider separating the space with shelf dividers. This way, you can compartmentalize your items and more efficiently use the space.
Colour Psychology – What colour are your bedroom walls? Painting your walls cool, light colours will dramatically open your spaces by making them feel bigger. Our friends at Five Star Painting can help you complete the transformation!
Mirror, Mirror – When all else fails, add a mirror! Like light paint colors, Mirrors create the illusion of a larger space. Check out this blog on the value of mirrors from the experts at Glass Doctor!
With these tips and tricks, you'll be able to create beautiful and functional bedroom/closet spaces, no matter the size. If you enjoyed this organization blog, check out our tips for the car!
Need a home service professional? We happen to know a few! Explore our entire family of brands on our homepage.