How to Keep Your Cat Out of the Christmas Tree-Really
Although it's second nature for cats to climb trees, it's possible to keep your ornaments and your cat safe. Here are some tried-and-true ways to keep cats away from Christmas trees.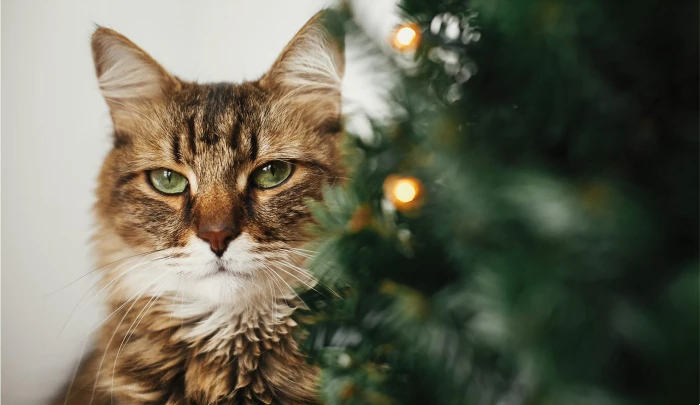 1. Buy an Artificial Tree
Humans love the smell of live evergreen trees, but so do cats. Your pet is more likely to scratch, paw and nibble a real Christmas tree than it is a fake one. Also, artificial trees are trickier for cats to climb, and without that fresh-pine scent, your kitty just won't be as interested in trying.
There's nothing wrong with choosing an artificial tree. You won't have to worry about sweeping up pine needles or protecting your floors from Christmas tree sap. For authentic ambiance, buy a pine- or fir-scented candle.
2. Get the Real Tree – But Skinnier This Year
If you definitely want a real Christmas tree, pick one that's tall and skinny. Some tree farmers call these "toothpick trees." Cats like to hide, but thin trees don't provide the right stability or protection. Furthermore, if your cat is a little overweight, they probably won't try to scale a skinny tree.
3. Make the Tree Less Comfortable
Learning how to keep your cat out of the Christmas tree requires knowing your pet's motives. In many cases, they just like an interesting place to relax and get sensory stimulation. If you reduce the relaxation factor, your cat will lose interest.
If you already purchased a tree, try loosely lining the tree trunk and lower branches with aluminum foil. Cats don't like the way foil feels or sounds. Another option is to pick a tree with extra-sharp needles, like a Scotch pine, which will deter even the most avid climbers.
Be aware that it's harder to notice when thicker types of pine needles are drying out. To prevent your tree from becoming an eyesore and a fire hazard, use these recommendations from The Grounds Guys® for Christmas tree care.
4. Spray the Tree with Citrus Oils
Did you know cats can't stand the smell of citrus fruits? Consider dousing your tree's needles with a citrus-scented pet repellent. You can also hang dried slices of orange or lemon around the base of the tree to keep your cat away. This is a fun activity to do with the kids!
Beware: Some cats may try to mark their territory if they notice an unfamiliar scent. If your cat tends to spray or mark around the house, you'll find these cat odor removal tips from Rainbow International® useful.
5. Pick the Location Wisely
Think about where you want to put your Christmas tree. Is it near ledges, furniture or windowsills? If so, you may want to reconsider. Cats have a reputation for jumping from surface to surface. Find an isolated location for your tree to prevent your pet from going on a climbing adventure.
Additionally, avoid placing your tree too close to a fireplace, air vent or direct heat source. Not only will your cat need to find another warm napping spot, but a cooler location will also make your tree last longer. To take it a step further, Aire Serv® suggests the best temperature for your Christmas tree.
6. Hang the Ornaments with Care
Decorating the tree is a beloved tradition for many families, and you don't want your cat to shatter your favorite glass ornaments. When hanging ornaments, try avoiding the lowest branches. You should also think twice before tossing tinsel or garlands on the tree. While it may look nice, the shiny strands tempt playful cats.
7. Take Away Remaining "Toys"
If you're still struggling with how to keep cats away from a Christmas tree, make the tree even more unappealing to a feline. Move or remove any decoration that your cat may mistake for a play toy. Instead of wrapping lights around the outer branch tips, place them mid-branch to hide the wires. Cover the water basin to keep your cat from sneaking a drink.
Make the Holidays Merrier
Cats are individuals – and often weird – so we hope one of these tips solves the mystery of how to keep your cat out of the Christmas tree! If you're looking to spend more time with your cat and other loved ones this season, let Neighbourly® help. We have reliable experts to handle your holiday to-dos and other home service needs. Search through our services to find pros near you.