Exterior Lighting Ideas – How to Choose
How to Choose Outdoor Lighting Fixtures for Your Home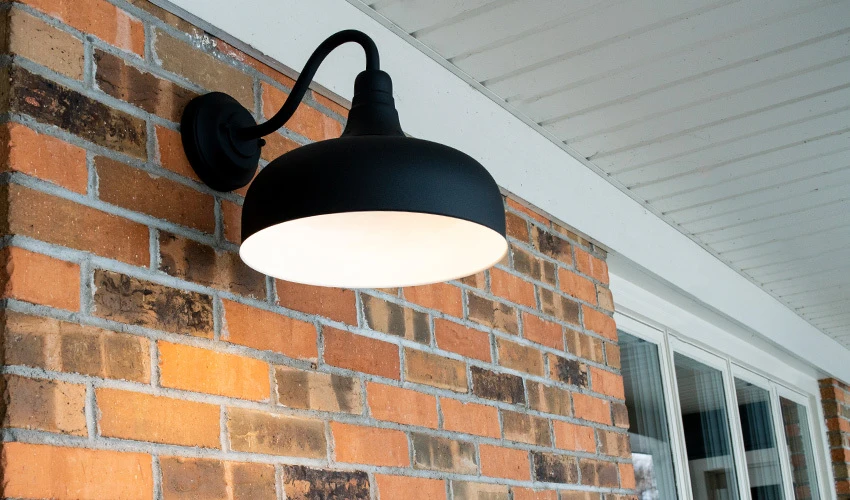 As you explore different exterior lighting ideas, stick to this basic process to stay focused:
Start by replacing the existing lights you dislike most – on the front porch, the back patio, etc.
Identify new areas where you'd like to add lighting, and see if you can access electricity there. Consider lighting at all heights (even in trees!) and near high-traffic walking areas.
Determine if you'll need to expand the electrical system, and if you have budget for it.
For the new areas to be lit, find lighting that complements the fixtures you chose during step 1.
Check the brightness of each of your lighting options. Is any of them too bright? Will some need dimmers?
Check the weight of your lighting options. Will you need to build something to support a heavy light?
Make your final decisions after weighing all these factors. Then purchase the light fixtures!
Consider Labour Intensity
Some types of exterior lighting are easy, and some require a lot of installation work. Think about labour intensity when determining the best outdoor lighting ideas for your home. Options that don't require electrical wiring include solar string lights, solar lanterns, gas lamps and other fire features. These fixtures require wiring but not much installation work: floor lanterns, light-up planters and easy-to-hang sconces.
If you have big ideas for outdoor lighting (like the ones later in this post) but not much time or skill for the project, we recommend checking if these reliable Neighbourly® brands have teams near you:
Need other home services? Search on our homepage, and we'll match you up with reliable pros in your area.
Front Porch and Entryway Exterior Lighting Ideas
How many porches on your street have a bland, 1980s-era sconce light next to the door? While sconces can be great for porches, not just any sconce will do. From a "wall lantern" to a modern, geometric sconce, choose something that brings you joy – and don't forget that an amber light bulb will look more inviting than white light at night.
If your porch is covered, look into these trending exterior lighting ideas: a pendant centered over the door, colorful enamel "barn" lights and unique chandeliers. Rather than your usual twin lights flanking the door, consider an asymmetrical trio of hanging lights.
Back Deck and Patio Lighting Ideas
On the back of the house, you might want to stay consistent and use the same lights you chose for the front porch. Or you can go in another direction. Just make sure all the lighting in your immediate view goes together well.
Decks provide many great places to "hide" small accent lights and make a practical, delightful space. For example, put tiny lights on the fronts of the stairs and under the railing post caps. Check out more deck and patio lighting ideas here.
Garden and Lawn Lighting Ideas
In your yard, focus on lighting up pathways to minimize nighttime trip hazards. Try solar stake lighting or rope lighting along your sidewalk.
Next, add some accent lighting. Hang string lights in a tree or two. Put ambient lights among the rocks in your garden beds. Don't be afraid to choose accent lighting that's unusual and fun. What about these wild lights that look like logs?
Finally, think about how you can use exterior uplighting to emphasize your home's beautiful features at night.
At Neighbourly, we're zoomed in on the details that make a house a home, and we know the best service providers near you. Tell us which home improvements and repairs you need help with by searching for services or calling (855) 263-6602.