DIY Carnival Games & Other Homemade Entertainment
In the dreariest of winters, a slightly warmer, slightly sunnier day is a gift. When the sun peeks out from behind the clouds, it's time to head outside with the kiddos!
Take full advantage of these brighter days by creating a carnival in your backyard! Use these do-it-yourself ideas for fun all winter long, both indoors and outdoors.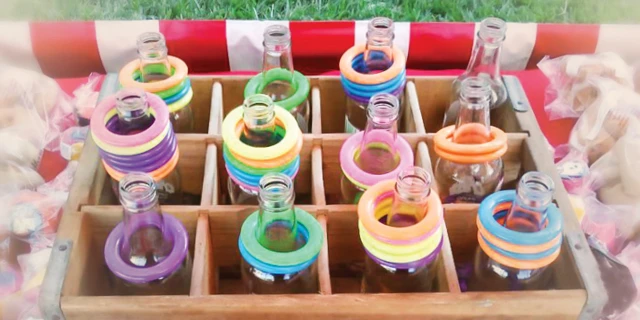 Balloon Dart Board – Why not start off with a classic! Grab your balloons and darts and head to the backyard or the garage. Be mindful of little hands and consider reserving this game for big kids only. Read these great DIY instructions from Carnival Savers.
Bean Bag Toss – Before heading outside, grab a few mixing bowls from the kitchen! See who can rack up the most points by tossing bean bags into designated bowls. If it's too cold outdoors, consider playing in the living room or garage.
Twister – If you love Twister, you'll love this backyard "twist!" Use washable marking spray on your lawn to create your "mat." Check out the DIY from One Good Thing, and ensure your lawn is ready for the fun with The Grounds Guys! Or, if snow has you huddled inside, try the classic version!
Chalkboard Pictionary – Let's play Pictionary! Learn how to turn an old mirror into a chalkboard that will hold your masterpieces in this video from our friends at Five Star Painting. Take the chalkboard inside or out for an afternoon of fun!
Ladder Golf – Make a trip to a home improvement store for some PVC pipe and you'll be well on your way to creating your very own ladder golf set! Momtastic has great DIY instructions. Set it up outside or in your hallway for portable fun anywhere around your home!
Photo Booth – Ready for your close up? Use your fence as a rustic backdrop for some photo booth fun. Gather fun hats, glasses and other props and strike a pose!
Glow-in-the-Dark Bowling – When that winter sun goes down, the fun doesn't have to end! Skip your local alley and try glow-in-the-dark bowling by placing glow sticks in empty water bottles. If it's too cold at night, set it up in a dark living room or game room!
Don't let a cloudy winter day get you down! When you finally get some sunshine, you'll be ready to make the most of it with your DIY carnival games on deck.
Our Neighbourly community of experts are eager and ready to support you in any home-related endeavor. Need a little assistance with a do-it-yourself project? Call (855) 263-6602 today to connect with a professional in your neighbourhood.