Delicious and Easy Holiday Party Appetizers
Planning a small, but safe gathering at your home soon? Or just feel like making some fun festive treats for yourself and your close family? Even if you aren't a natural chef, you can whip up these easy holiday party appetizers that everyone will love.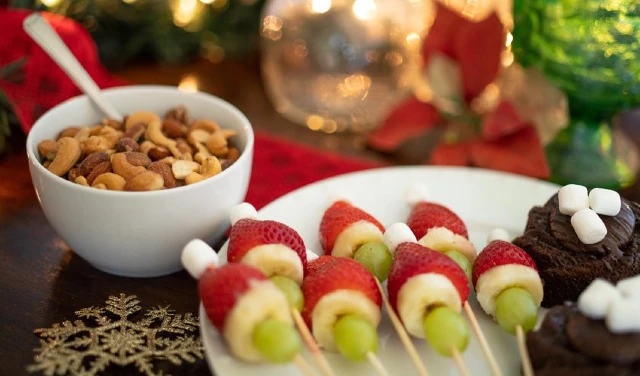 Surprisingly Simple Hummus Wreath
Wreaths aren't just for hanging on the door. A savory hummus "wreath" will have your guests begging for the recipe. Best of all, it only takes a few minutes to create. All you need is hummus (store-bought or homemade), cherry tomatoes, chopped parsley, and crumbled feta cheese.
Grab your favourite serving platter and arrange the hummus in a wreath-sized circle. Add a layer of parsley and a few strategically placed tomatoes. Sprinkle feta on top to mimic snow. What goes in the center? Your favorite dippers! Pita chips and bell peppers (red or green) are perfect options. Serve chilled and enjoy!
Satisfying Skillet Dip Snowman
Looking for holiday party appetizers that are more filling? A skillet dip snowman will please anyone. It only uses six ingredients and a few garnishes.
To make the dip, toss cooked chicken, cream cheese, salad dressing, lemon juice and Worcestershire sauce into a food processor. Blend until smooth. Next, assemble your snowman. In a large skillet, place small dinner rolls (think snowballs) around the perimeter. Fill the center with the chicken dip. Bake until the bread is golden brown. Before serving, decorate the dip like a snowman – a carrot for the nose and olives for the eyes and mouth. Serve warm, and watch it disappear!
Festive Cranberry Pecan Mini Goat Cheese Balls
Want simple, quick, and delicious finger food? Cranberry pecan mini goat cheese balls will hit the spot. And they only take 10 minutes to make! You'll need lots of cheese: cream cheese, goat cheese, and grated white cheddar. Mix all three kinds of cheese in a bowl, and stir in dried cranberries, chopped pecans, and chives.
Form the cheese mixture into small, ornament-like balls. Roll each ball into a different coating. Red cranberries, green chives, and gold pecans make these easy holiday appetizers festive! Chill the cheese balls, and add pretzel sticks before serving for easy grabbing.
Sweet Christmas Cookie Dip
A holiday appetizer spread is not complete without something sweet. A Christmas cookie dip will satisfy any sweet tooth, and it will only take you five minutes to prepare. In a medium bowl, mix vanilla yogurt, cream cheese, butter, vanilla, powdered sugar, and colorful sprinkles. Red and green sprinkles are perfect for the holidays! Blend until fluffy and refrigerate before serving. You eat this sweet dip with gingerbread cookies, of course! Looking for another dessert recipe? Mr. Appliance® has instructions for peppermint ice cream cake.
Prepare Your Home for Holiday Guests
Before you set the table with your easy holiday appetizers and festive decorations, it's time to get your house "guest-ready". But there's so much to do, and you'd probably rather watch a holiday movie with your family. Neighbourly® is here to help. Our home service professionals offer everything you need to ready your home from top to bottom. Here are some ideas for saving time during holiday preparations.
Your gatherings may be small or remote, but still require a lot of effort. Let us give you your free time back so you can enjoy the holidays more. Browse all our home services, and get matched with a local Neighbourly company.
Keep your kitchen appliances in tip-top condition so they can handle all the cooking. If Mr. Appliance® has a team nearby, save them in your contacts.
Have pets? Remove pet odors, allergens, and debris from your carpets so your guests are comfortable. If locally available, Rainbow International® is the ultimate carpet cleaning service – and they also specialize in smoke, mold, and water damage restoration.
The snow and ice may look beautiful, but they make your driveway and sidewalk dangerous. Learn more about The Grounds Guys®
Did you know that plumbing issues are more common during the holiday season? Mr. Rooter® Plumbing has tips for avoiding some common plumbing disasters.
Several Neighbourly brands also offer holiday lighting and/or some type of decorating services! Choose a provider based on local availability and other services you may need simultaneously: Window Genie®, The Grounds Guys®, and Mr. Handyman®.
Your gatherings may be small or remote, but still require a lot of effort. Let us give you your free time back so you can enjoy the holidays more. Browse all our home services, and get matched with a local Neighbourly company.