Decorate Your Front Porch to Add Character to Your Home
First impressions matter – not just with people, but with your home too. And that especially includes curb appeal. What does your front porch say about your home?
Help your home put its "best foot forward" with these 10 beautification tips and tricks!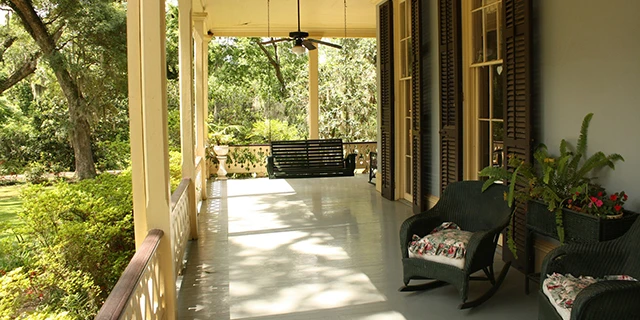 Celebrate the seasons. Showing off festive, seasonal décor tells your neighbours you're settled in and committed to your neighbourhood. Bring on the carved pumpkins and holiday wreaths!
Work the wreath. Who says wreaths are limited to winter months? Try adding flowers or other ornaments to make your wreath work in any season for added value.
Dress the door. Could your front door use a pick-me-up? A fresh coat of paint from your friends at Five Star Painting will refresh your entire exterior.
Sit (or lay!) a while. From classic rocking chairs, swinging benches or even comfy hammocks – the possibilities are endless! Pour yourself a cold glass of iced tea and catch up with a neighbour.
Illuminate your space. Ace the ambiance for a summer night on the porch with the help of string lights, sconces and beautiful landscape lighting from The Grounds Guys!
Love your landscaping. What exactly are you illuminating with your new landscape lighting? Frame your front porch with freshly cut grass and shrubs and perfectly-planted flowers for colour.
Accentuate with pots. In addition to fresh landscaping, adorn your porch with smaller potted plants that could be hung or placed on a small table. Succulents are trendy and oh-so-pretty!
Set the tune. With a portable speaker on the porch, you can set the mood with music for a fun summer get-together or a relaxing evening for one. Be sure to use outdoor plugs safely!
Keep it cold. Glued to your rocking chair, lost in a good book? Don't get up to refill your glass! Enlist Mr. Handyman for help building a custom outdoor ice box for your porch.
Roll out the mat. Don't forget to welcome guests with a pretty mat at your door. Whether it features a cute saying or a beautiful design, make it your own!
Your front porch has never looked better! Nail that home "first impression" and use this outdoor space to its full potential.
Need a home service professional? Schedule service with one of our trusted experts at Neighborly.com/ca.