A Spooky Take on Halloween Party Food
Fun party food can turn even the grumpiest gremlin into a happy pumpkin this Halloween!
What's cookin' at your Halloween party this year? Check out some of our easiest, spookiest ideas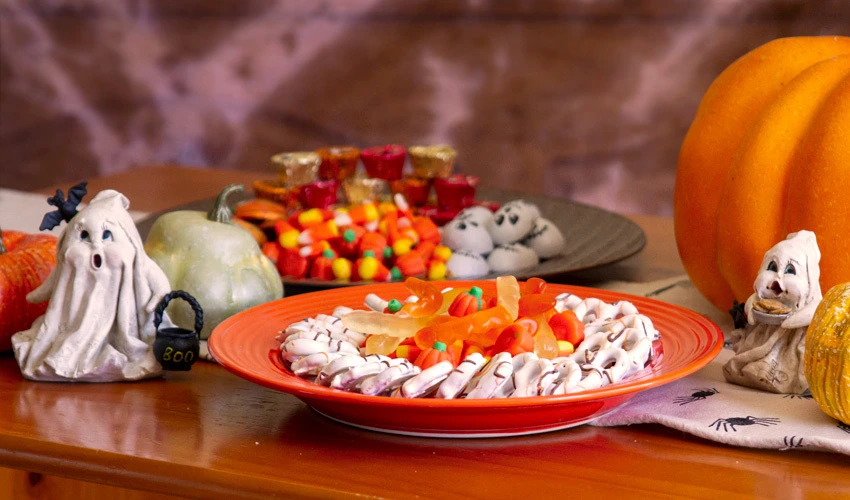 Spooky Snack Ideas
Mummies in a Blanket – These aren't your usual pigs in a blanket! Wrap a mini hot dog or sausage in dough. Leave part of the sausage exposed and draw mustard or ketchup eyes after baking.
Vat of Goo – Take your classic chips and guacamole to the next level. Try adding cannellini beans and diced tomatoes for extra chunkiness!
Bat Wings – Make your favourite bat (well, chicken) wing recipe! To get that bat wing blackness, try using black food coloring to darken a teriyaki sauce recipe.
Creepy Smiles – Put a little peanut butter on two half-inch red apple slices, add a line of small marshmallows between them, and you have a tasty and creepy snack!
Strawberry Ghosts – You've seen chocolate covered strawberries, but not like this! Use white chocolate for these and once they cool, squeeze or brush on dark chocolate to give your ghosts a face.
Witch's Brew – Mix frozen limeade concentrate with ginger ale and green food coloring. Then, add a big scoop of lime sherbet on top. Extra points for bloody cups! (Red food gel on the rims!)
Witch Fingers – These are so spooky, you might have trouble eating them! Grab some hot dogs, use a knife to make finger-like lines and nails, and don't forget to add ketchup blood.
Clementine Pumpkins – Peeled clementines look just like little pumpkins. Add a tiny piece of celery to give it a stem and enjoy this healthy, festive treat.
Spooky Sugar Cookies – Cookie decorating is fun any time of year, but Halloween is an opportunity to make it spooky! Try using a pumpkin- or ghost-shaped cookie cutter. Add some frosting or sprinkles for a little extra festive scare.
Your food should be scary, but your home maintenance to-do list shouldn't be! Need help prepping your home and getting some items on your to-do list checked off? We're here to help! Visit our home page to explore our services and connect with a local Neighbourly pro.
Also, take the guesswork out of preparing for fall with this Fall Home Maintenance Schedule PDF (308kb), courtesy of Neighbourly. This resource will help ensure your home is in its best shape and that you're ready for pumpkin patches and apple cider all season long. Best of all, your checklist is FREE!
Download your checklist PDF (308kb) to find several helpful reminders like:
Check windows and doors for air leaks to save on your heating bill.
Rake and remove all leaves from the yard.
Disconnect garden hose and ensure no water remains in it.